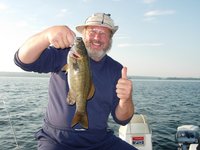 Richard E Williams
Richard Edgar Williams was born in Lowell, MA on March 16, 1949, the son of the late Edgar A. Williams and F. Virginia Williams. Richard was a loving husband, father and grandfather. He was a pilot's pilot, an avid fisherman, sportsman and outdoorsman.
He graduated Reading Memorial High School in 1967 and was known as "Stretch" Williams on the Rockets Basketball Team - Middlesex League champions inducted into the Reading Memorial Hall of Fame. He received his Bachelors Degree in Mechanical Engineering from Rose Polytechnic Institute in Terre Haute, Indiana in 1971.
Richard served for over seven years in the U.S. Air Force from 1971 to 1979. He was commissioned as a 2nd Lieutenant in November 1971, and then completed USAF Undergraduate Pilot Training in 1972. Upon graduation from pilot training he was selected to fly the F4 Phantom II Fighter-Bomber. He completed training in the F4 in August of 1973 and was then assigned to the 92nd Tactical Fighter Squadron stationed at RAF Bentwaters in England. There he flew the F4 Phantom in a variety of roles including air-to-air and air-to-ground attack missions. He was an expert pilot and won many Top Gun Awards for his flying skills. After departing England he was assigned to the Tactical Fighter Weapons Center at Nellis AFB in Nevada, serving as an Air Operations Officer. Richard was promoted to rank of Captain in 1975. His decorations include the Air Force Commendation Medal, The National Defense Medal, The Small Arms Expert Marksmanship Ribbon and the Air Force Longevity Service Award.
Upon Richard's retirement from the USAF, he and his family returned to Massachusetts to work alongside his father, Edgar. For many years, Richard owned and operated Williams Auto Electric in Billerica.
His utmost passion was flying his Beechcraft V-tail Bonanza and leading numerous formation flights for celebrations and memorials at New England events. In his work with Air Life Line, he was able to merge his passion for flying and for helping others by donating his time and resources to fly missions throughout New England in order to connect remote patients with their medical appointments.
In 2004, Richard joined the Raytheon Corporation as part of a team to rebuild the Baghdad International Airport air traffic infrastructure. For his contribution to this project in Iraq he received the Gold Coin of Excellence.
Richard retired from Williams Auto Electric in 2014 and merged the business with R&D Custom Exhaust. He returned to flight instruction as an FAA Certified Flight Instructor and worked for both Air Direct Airways in Nashua, NH, and Aptis Aviation in Stow, MA. He welcomed any opportunity to take aspiring pilots for their first flight and introduce them to the joys of aviation. He led dozens of students for their private and commercial licenses. Richard also had a lifelong love of model airplanes, and enjoyed RC model building and flying. He was an active member of the Middlesex County RC Fliers and flew often with the club in recent years.
Richard is survived by his wife Elizabeth Marie Williams and his two children, Gareth Richard Williams and his wife Julia of Newton, NH and daughter Jessica Lynne Godburn and her husband Kevin of New Haven, CT; two stepsons James Joseph Kaupelis of Nashua, NH, and Thomas John Kaupelis of Westford, MA; and four grandchildren.
A memorial service will be held at the Burns Funeral Home, 354 Boston Rd., (Rt. 3A), Billerica, on January 31, 2019 from 4pm to 7pm. Donations in lieu of flowers may be made to PALS (Patient Air Lift Services) https://palservices.secure.nonprofitsoapbox.com/donate2pals