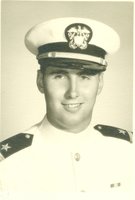 Edward John "Ed" Foley
Edward John Foley passed away Friday, September 6, 2019 at his home in Billerica, MA at the age of 73 after a courageous battle with cancer.
Ed was born in 1946 in Greenfield, Massachusetts to Bernard and Mae Foley. He attended St. John's High School in Shrewsbury, MA, class of 1964, and College of the Holy Cross in Worcester, MA, class of 1968, majoring in Mathematics and History. He enrolled as an officer in the Navy serving on the USS WASP for five years after college and earned a business degree from the University of Michigan in 1986. Ed married the love of his life, Judith Ann McElligott, in 1972, with whom he raised their family in Billerica, MA. He worked in computer programming at John Hancock for 20 years, advancing to management. Ed built upon a family business created by his father-in-law and brother-in-law, Thomas and Michael McElligott. Ed was very proud to see the business grow into PASA, now with eight employees.
Ed was a quiet man, but his words carried meaning. He was soft-spoken, always taking the time to explain what his keen eye was able to see. Ed had a great love for family and history, demonstrated by his countless hours of genealogical research. He was an avid Boston sports fan and once played a basketball game in the Boston Garden on the original parquet.
Ed will be lovingly remembered by his wife of 47 years, Judith; son Michael and his wife Lisa; daughter Mary Donaghey and her husband Daniel; and grandchildren Brandon and Brenna Donaghey who were truly a joy to him. Ed will also be fondly remembered by his brother Bernard and his wife Kathleen; his brother James and his wife Rosalie; his sister Anne Marie Ayotte; and many other members of loving family.
A wake will be held on Tuesday, September 10 from 4-7p.m. at Burns Funeral Home at 354 Boston Road in Billerica, MA. A funeral Mass will be held on Wednesday, September 11 at 10a.m. at St. Theresa's Catholic Church at 466 Boston Road in Billerica, MA. A private military burial will be held at the Massachusetts National Cemetery in Bourne, MA.
In lieu of flowers, gifts may be made to either:
Dana-Farber Cancer Institute
P.O. Box 849168
Boston, MA 02284
https://www.dana-farber.org/how-you-can-help/ways-to-give/make-a-memorial-or-tribute-gift/
Wounded Warrior Project
P.O. Box 758516
Topeka, KS 66675
https://www.woundedwarriorproject.org/donate