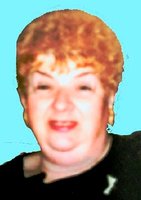 Helen M. Nichols
Helen M. (Shanahan) Nichols, age 83, of Billerica and formerly of Cambridge, MA, departed October 4th, peacefully into the arms of Jesus after a lengthy illness.
Born and raised in Cambridge, Helen settled with her family in Cambridge before moving to Billerica where she lived for the last 43 years.
She was educated in Cambridge at St. Mary of the Annunciation Grammar and High School and Middlesex Community College in Bedford, MA. Thereafter, she attended Henry I. Simmons School of Floral Design in Wellesley and became a certified floral designer, working briefly at a few local florists. She also held positions in bookkeeping and office management.
Beloved wife of the late Paul F. Nichols, and sister of the late John P. "Jack" Shanahan, she is survived by her daughter, Patricia A. Kondel and her husband Thomas, her son, Paul F. Nichols Jr. and his wife Sandra, of Wisconsin Rapids, WI.
Helen was proud grandmother to the late Jerome Nichols of WI, Lauren Nichols of CO, John Nichols of MN, and one great-grandchild, Cyara Nichols of WI. Other survivors include her cherished sister-in-law, Theresa Shanahan, of Milford MA, and many wonderful cousins, nieces, nephews, friends, and neighbors.
A communicant of St. Williams Church in Tewksbury, MA and a member of St. William's Blessed Virgin Mary Sodality, Helen's personal connection to her Catholic faith guided her through the many health challenges she endured.
Helen's wonderful sense of humor and roaring laughter will never be forgotten and her memory will live forever in our hearts. Please join us for a celebration of Helen's life on Friday, October 9th at 9:00 AM, at Burns Funeral Home, https://burnsfuneralhomes.com/ in Billerica MA, followed by a funeral mass at 10:00 AM, at St. Williams Church, in Tewksbury.
Interment will be held at Cambridge Cemetery.
In lieu of flowers, please donate in Helen's memory to the American Heart Association https://www.heart.org/en/health-topics/peripheral-artery-disease, or to a charity of your choice.