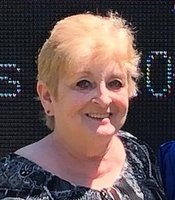 Ellen F. Scaringi
Ellen F. Scaringi, 69, of Billerica MA passed away unexpectedly Thursday October 1, 2020 at her home.
She was born and raised in Wilmington and moved to Billerica when she met and married her husband, Dan, with whom she celebrated their 52nd wedding anniversary this past May. Ellen worked for MIT Lincoln Labratory in Lexington, MA for 29 years and retired from there in 2012. After, she worked part time for Foy Insurance in Tewksbury, Chelmsford public school system and Market Basket in North Billerica. She also volunteered at the Billerica Public Library. Ellen was the glue that held her family together and she loved the fact that her children and grandchildren were all very close, both in location and bond. She hosted every holiday and birthday dinner to bring everyone together - which was extremely important to her. She would do anything for anyone and many of her younger co-workers referred to her as their "other mother". Many who knew her referred to her as "sassy" and that she was! She was funny and kind and always quick with a comeback.
She absoutely adored animals! She fed the wildlife daily and she could tell the squirrels apart from one another. Her backyard was jokingly referred to "Ellen's Wild Kingdom" because you never knew what was going to show up on the back deck looking for her to toss some food out for them. She will be sorely missed by all! She is survived by her husband, Daniel, her three children - daughter Lisa Scaringi of Chelmsford, a son Daniel Scaringi, Jr. and his wife Michelle, of Tewksbury and daughter Patricia Harrison of Nashua, NH; grandchildren Christopher Hibbard of Chelmsford, Rachel Scaringi and Jason Scaringi of Tewksbury and Zachary Harrison of Nashua, NH; grand-dogs Bella and Leti, and her grandcat, Ozzy. She is predeceased by her parents William Devlin and Helen (Healey) Devlin Farrell, brothers William Devlin, Gerald Devlin, Donald Devlin, and Frederick Devlin; sister Jean Spencer. A graveside service will be held at Fox Hill Cemetary in Billerica on Monday October 12, 2020 at 10:00am. Relatives and friends invited. There will be a celebration of Ellen's life held immediately following the service.