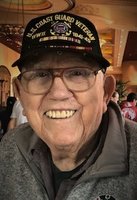 Robert D. Killeen
ROBERT D. KILLEEN, of Billerica, Massachusetts, age 96, passed away peacefully at his home on Saturday, October 10. He was known by most as a sensitive, gentle, and caring gentleman. He was born on August 18, 1924 to parents Freda Harris and Edward P. Killeen. He was predeceased by his devoted wife of 69 years, Bessie (Gordon) Killeen who passed away in 2013 and his eldest son, Edward John Killeen, who passed away in 2012. He is survived by his son, David Killeen of West Haven, Connecticut, Mary Broden and her husband, Robert Broden, of Mason, New Hampshire, and Wendy Wright of Billerica, Massachusetts. He also leaves behind eight grandchildren and seven great grandchildren.
Robert served in the Coast Guard for twenty years, beginning at age 18. During World War II, he served on a sub chaser globally, rising to the rank of Lieutenant Commander. Stationed in Boston, after retiring from the Coast Guard, he worked in the Coast Guard Reserves in the Intelligence division, retiring after 32 years of service in 1984. He also worked as a Criminal Investigator with the Internal Revenue Service.
He and his wife enjoyed many years of traveling throughout the United States, as well as to Canada, Italy and a trip with their children to Ireland. During their retirement years, they ran an antique business. He was also elected to serve as a Town Meeting Representative in Billerica, on which he served for 30 years. While on the representative board, he served on the Finance Committee and the Planning Board. He and his family attended the First Congregational Church of Billerica, where he served as a Deacon for years.
Funeral arrangements are being handled by Burns Funeral Home of Billerica. A private funeral will be held for the family at the North Beckett Cemetery. Donations to the COPD Research/American Lung Association or to any Animal Humane Society can be given in lieu of flowers.