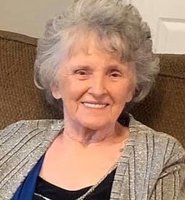 Isabella F. "SIS" Burpee
Isabella (SIS) Burpee, was a lifelong resident of Billerica, MA until her later years, when she made her home in Florida. After a long, hard battle with Parkinson's Disease JESUS called her home on October 23, 2020 as she was surrounded and held by her Children and Loved Ones.
Isabella was the oldest daughter of the late Ernest C. Dick, Sr. and the late Irene F. (Ostler) Dick and is survived by her 4 Children, Donna and her husband, Charles Wigeri van Edema, Vance Burpee, Jr. and his wife, Watila, Kathleen and her husband,David Watson, Kimberly and her husband, Chris Connell. She was also survived by 11 grandchildren and 23 great grandchildren, many nieces and nephews, "The Corner Kids", Donna Flavin, Jim Flavin and Bob and Janneil Graham. All whom she loved dearly.
She was a Homemaker, a CNA, a Proud Member of the VFW Ladies Auxillary Post 8093 in Debary, FL, and a lifetime member of the Pinehurst Community Congregational Church
Isabella will always be remembered as a LOVING, SELFLESS and GIVING Mother, Sister, Grandmother, Aunt and an amazing Friend. She was "NANA B." to ALL..
She is reunited in Heaven with her Daughter Nancy, her Brother, US Navy SCPO Ernest Dick, Jr, her Sister Edna Beil/ Mc Donald, her Dear Friends Ginny Johnson and Marie Melendy
A private viewing will be held at 10:00 AM on Friday, October 30, 2020 at The Pinehurst Community Congregational Church, 803 Boston Road, Billerica, with a private funeral service to follow at 11:00 AM.
Interment will be held at Fox Hill Cemetery, 130 Andover Road, Billerica, at 12:00 PM. ALL ARE WELCOME to join the Family.
In lieu of flowers: PLEASE consider making donations in Isabella's name to the Pinehurst Community Congregational Church /General Fund.