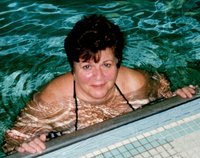 Rosalie M. "Rollie" Coluccio
Rosalie "Rollie" Marie (Pettinato) Coluccio
Rosalie "Rollie" Marie (Pettinato) Coluccio departed her loved ones and this earth on January 12, 2021 at the age of 80. She was the beloved and devoted wife of 60 years to Paul Coluccio.
Rollie was born in Boston, Massachusetts on February 11, 1940, daughter to Matthew and Margaret (Moccio) Pettinato. Raised and educated in Belmont she graduated from Belmont High School in 1958 to become a hairdresser. She met the love of her life Paul at age 16 and they married on June 4, 1961 at St. Joseph's Church in Belmont. They remained in Belmont until 1968 where they moved to Billerica and raised their three daughters.
Beloved wife, mother, daughter, sister, and grandmother. Friend and caretaker to all who passed through her life. Rollie led a life full of love, light and laughter. Everywhere she went her infectious smile and laugh followed.
Survived by her husband, Paul Coluccio of Billerica, Her daughters Lynne Coluccio and husband Raymond Wormwood of Portland Maine, daughter Wendy Burek and husband Anthony of Billerica, daughter Sheryl Spera and husband Gregg of Billerica. She is survived by her grandchildren, Amanda Marshall, Rebecca Wormwood, Ember Spera, Justin Burek, Jason Wormwood, and Brooke Burek, siblings Benjamin Pettinato, Matthew Pettinato and Deborah O'Neil and many nieces, nephews and cousins. She will be reunited in heaven with her Mother and Father, Matthew and Margaret Pettinato, her brother Ronald Pettinato and granddaughter Marissa Spera.
Rollie had a taste for the finer things in life. She traveled parts of the world with her true love, Paul. Rollie and Paul spent their lives together. They were the life of the party. Rollie loved music and dancing so much that they took disco lessons, practicing their dance moves in the living room every week.
Some of her favorite hobbies included crossword puzzles, cooking and reading. She was an active member of the CB community. She taught classes in ceramics and was passionate about channeling her art through painting and writing poems of her own.
She loved being with her family. Nothing meant more to her than spending time with loved ones. Whether it was a birthday, holiday, or just a regular Sunday Rollie always had the time to host a family dinner. It was tradition to take turns crowding over the pot with Italian bread for a taste of grandma's homemade sauce. There is no place like home… except grandma's.
Family and friends will gather to honor and remember Rollie on Monday, January 18, 2021 from the Burns Funeral Home, 354 Boston Rd. (Rt. 3A), Billerica from 4:00-7:00 pm. Funeral from the Burns Funeral Home,Tuesday at 9:00 AM followed by a Funeral Mass in St. Matthew The Evangelist Parish at St. Theresa Church, 466 Boston Road, Billerica at 10:00 AM. Relatives and friends invited. Attendees are required to sign up via https://signupgenius.com. Per current state mandate, face coverings and social distancing will be required. Burial will follow at St. Mary's Cemetery, Tewksbury.
∞ Love you to God and back ∞