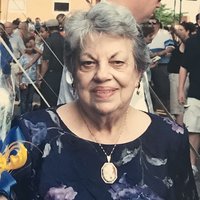 Edith F. Pedro
Edith F. Grosso Pedro was born in Cambridge, Massachusetts on June 10, 1923 and passed away peacefully on February 9, 2021. She was the daughter of Diego Grosso and Frances Spampinato of Sicily who traveled through Ellis Island to New York before settling in Cambridge, Massachusetts. She was married to Anthony "Tony" Pedro of Cambridge who pre-deceased her. She is survived by her son Frank Pedro of Cambridge, his wife Peggy Hoffman Pedro formerly of Lynn/Swampscott, and their daughter Mary Kate Pedro of Cambridge and New York City. She is also survived by her daughter Gloria Pedro Geary of Maryland, and her three daughters, Jennifer Tweedie Collier and her husband Sean Collier of Maryland, Heather Tweedie of Maryland, and Allison Tweedie, M.D. and her husband Cory Suter of Virginia, as well as seven great grandchildren.
Edith was the final survivor of her four sisters, Mary, Rose, Helen and Gloria; her aunt and Godmother Josephine Spampinato to whom she was devoted; and an adopted brother Rev. John Patrick Coffey.
A staple of the community, Edith was a lifelong devotee, parishioner, and daily communicant of St. Mary of the Annunciation Church in Cambridge. She attended both St. Mary grammar and high school, and it was there that her birth name was changed from "Aida" (after the opera her Father idolized) to her Christian name, Edith. She often recalled that while a student at St. Mary's, the Pastor, Monsignor Butler, remarked following the first renovation of the Church that the vaulted ceilings were painted a blue as deep as the night sky with twinkling stars. She so enjoyed looking up at them in contemplation of how beautiful her church was.
She remained active at the Church in many capacities; PTA President, CCD Director, Parish Council and Finance Committee member. For her many decades of service to St. Mary's, in 2012 she received the honored Archdiocese of Boston Cheverus Medal from Cardinal Sean O'Malley. The only thing that ultimately limited her dedication to St. Mary's was her inability to negotiate the stairs, but she always found a way to attend the many social events she helped organize and run for years until she could no longer do so.
Edith graduated from Burdett College in Boston and worked for the U.S. Signal Corp during the WWII. Edith was the proud owner of "The Closet" card and gift store in Harvard Square. She also worked for the City of Cambridge Model Cities Program; the Cambridgeport Savings Bank in the Savings Bank Life Insurance Program, Orthodontist Dr. Michael Blau, and her son's company, Harvard Street Management, until she retired in at 88 years old. She will be remembered by all for her unwavering dedication to her family and career endeavors.
Edith spent 93 years in the home she was born in on Harvard Street, just down the block from St Mary's Church. In her later life she moved to the Little Sisters of the Poor Jeanne Jugan Residence on Highland Avenue in Somerville where she adored her new chosen community living amongst her peers and the wonderful Sisters where she felt their compassion and true generosity.
Edith is now buried in Cambridge Cemetery alongside her sweetheart, Tony, who she sorely missed for all of the 38 years of her life after his passing.
A memorial Service will be offered in the late spring or early summer of this year to commemorate her life. All friends, family, and well wishers will be welcome.