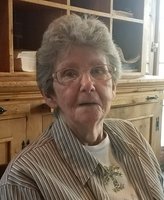 Joanne C. Martell
Joanne C. (McInerny) Martell of Pepperell, MA formerly of Billerica, MA. Passed away peacefully at home, surrounded by her family, after a courageous battle with Breast Cancer on March 12, 2021. Daughter of the Late Joseph H. Sr. and Sylvie McInerny. She was 81 years old.
Born in Woburn, she was a bookkeeper for Martell Motor Express in Billerica, MA for many years and had her own Ceramic Business from her home, where she taught classes for 25 years. Joanne made many lifelong friends from the ceramic business and was an extremely talented painter and gave many of her creations as gifts. She was a very giving, caring person and it reflected on her Christmas and Birthday presents. She was an avid Boston Bruins fan, New England Patriots fan, a fan of watching Golf, and various cooking and decorating shows. She loved Country Music and was probably Alan Jackson's biggest fan having seen him six times. She loved all sorts of animals and gave to many shelters and humanitarian causes. Joanne loved candlepin bowling and was on many different leagues. She had a saying that if you don't try it you will be kicking yourself later in life.
She is survived by her loving children Sheryl Gillis and her husband John of Seal Beach, CA. William Martell Jr. of Pepperell, MA. Karen Martell of Hastings, FL. Laurie MacDonald and her husband Steven of Pepperell, MA. And Christopher Martell of Chelmsford, MA. Her grandchildren, Shane Jones, Danielle Archer and her husband Sam, Joseph Lappin, Hollie Sullivan, Jamie Jones, Melissa Guist and her husband Timothy Sr., Scott Sullivan Jr., and his wife Vannda, Angela Martell and James Martell. She was known as GG to her great-grandchildren; Nico Jones, Jayden Sullivan, Elliot Lorenzo, Azalia Sullivan, Ansel Archer, Islie Lorenzo, Timothy Guist Jr. (TJ), Hunter Guist, and Evanna (Eva) Sullivan. Also, her brother Joseph "Butch" McInerny Jr. and his wife Sharon of Heartland, Vermont and several nieces and nephews.
She is predeceased by her daughter Sandra Martell, her sister Judy Sabella and her husband Charles, and her beloved dogs Bandit and Jasper.
She was a fighter all her life and fought courageously for the three years she had Breast Cancer. She will sadly be missed and never ever forgotten by all. Rest in Peace Mom, Gramma, GG, and JoJo. We love you and you will be with us always. Per Joanne's wishes, Funeral Services and Internment will be private. In lieu of flowers, donations may be made to The Humane Society of one's choice.