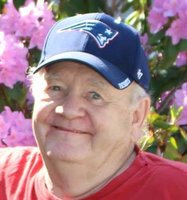 Charles E. "Charlie" Johnson
Charles E. Johnson, 79, of Billerica passed away peacefully on Tuesday, March 16, 2021, at Lahey Hospital. He was the beloved husband of Maureen L. Johnson (Bannister) to whom he was married for 56 years. Charles was born October 27, 1941, one of nine children, a son of the late Mary and Andrew Johnson.
Charlie proudly served his country as a member of the U.S. Air Force. He enjoyed riding his motorcycle, golfing and gardening in his yard. He camped with his family and enjoyed their annual summer vacations to Hampton Beach. Charlie could often be found on the sidelines of his grandchildren's sporting events. He especially loved to cheer at soccer games and could be heard chanting "go green." He liked to tinker in his garage and workshop and passed on his knowledge to his grandsons.
He had three daughters, Elizabeth Johnson and Kathleen Rogers of Billerica and the late Dawn Johnson of Merrimack, NH. Charles adored his five grandchildren, Matthew, Evan and Corey Lang; Jessie Lee Rogers; and Andi Jane Osborne.
Visiting hours are Thursday, March 18, 2021, from 5:00 to 7:00 p.m. at Burns Funeral Home, 354 Boston Road, (Rt. 3A), Billerica. All attendees are required to wear face coverings and practice social distancing; we ask that visitors pay their respects and exit the funeral home promptly to allow other guests to enter. Intermittent will follow at a later date. In lieu of flowers, donations may be made to Bay State Dogs, 45 Follette Street, Grafton, MA 01519. http://www.baystatedogs.com/