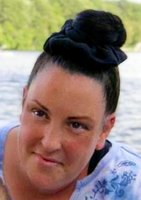 Michele L. McMullen
Michele L. McMullen
Beloved mother, daughter, sister and friend:
Michele L. McMullen, age 49, passed away unexpectedly on March 17, 2021. Her death was unforeseen and her family is shocked and deeply saddened. Michele was born on April 18, 1971 to Thomas and Mary "Pat" McMullen. She graduated from Shawsheen Valley Technical High School Class of 1990.
Michele grew up in North Billerica where she continued to live through-out her adult life. Michele was employed at Eastern Bus Company where she drove a school bus for the Billerica Public Schools. Michele enjoyed her coworkers and adored the students on her bus routes. Michele was a manager at K~B Toys for many years previously.
Michele was a devoted mother to Cody Swimm. Michele's love for Cody was immeasurable. Cody was her entire world and she embraced every moment with him. Michele's favorite quote says it all "… and she loved a little boy very much – EVEN MORE than she loved herself. She called him SON."
In her younger years, Michele could be found hanging around her childhood neigborhood with the other "Forest Park Kids". Michele lived a vibrant life with many good friends, especially her lifelong friend, Kathleen (Savoie) Neault. Michele had an immense love for her nieces and nephews, who meant so much to her.
Anyone that knew Michele, knew that she was incredibly kind-hearted and selfless. She would do anything for anyone. Michele's passion and special talent was cooking. She enjoyed cooking for family and friends. Her self-taught culinary skills always received rave reviews. Michele's other interests include a love for the beach, playing poker with her family, drive-in movies and simply spending time with family and friends. Michele will be remembered as always having a Dunks coffee in hand.
Michele's passing came too quickly and much too soon. Her family and friends will miss her more than words can say.
Michele was predeceased by her father, Thomas E. McMullen.
Michele leaves behind her young son, Cody, her loving mother, Mary "Pat" (McDevitt) McMullen of North Billerica; her beloved sisters, Mary Ann McMullen of North Billerica, Cheryl Russo of Seabrook, NH, Patricia Parece and her husband, Mark of Pelham, NH; her brother, Thomas J. McMullen and his wife, Kerry of Billerica; eight nieces and nephews Angela Russo, Justina Russo, Jacqueline Silva, David Shaw, Cortney Stauffer, Jordan Parece, Bradley McMullen, Katherine McMullen; seven great-nieces and nephews Jacob Dube, Alexis Dube, Jackson Silva, Evan Shaw, Erzsebet Shaw, Thomas Shaw, and baby Stauffer; and many aunts, uncles, cousins and friends.
Relatives and friends are invited to attend her graveside service on Saturday, March 27 at 11:30 a.m. at the Fox Hill Cemetery, 130 Andover Rd., Billerica, MA. All attendees are required to wear face coverings and practice social distancing.
A trust fund has been established to help support Michele's son, Cody. Donations are welcome and may be made to The Cody T. Swimm Trust and mailed to Cheryl Russo, P.O. Box 2545, Seabrook, NH 03874.