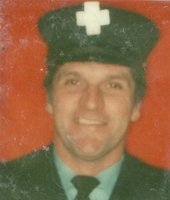 Richard K. "Richie" Dahl
Richard Kenneth Dahl, age 77, of Chatham, MA (formerly of Cambridge, MA) passed away on Tuesday, March 30, 2021. Beloved husband of Nora (Dowd) Dahl of Chatham. Devoted father of Kerry Dahl of Melrose, Kathryn Dahl and husband Stephen J. Feige of Cambridge, and father-in-law of Alison J. (Romsey) Dahl of Foxborough. Grandfather of Emma and Casey Dahl. Sister of Patrica Dahl of Reading, Marie (Dahl) Rauscher of Cambridge, and brother of Edward Dahl of Londonderry, NH. He is also survived by many nieces. He is preceded in death by his son, Eric Richard Dahl and brother, Robert Dahl, William Dahl, and sister, Dorothy (Dahl) Malone.
Known by his family and friends as "Richie," he was a Veteran of the United States Navy and a dedicated firefighter in the City of Cambridge for more than 34 years. This was not just a job but his passion in life. He remained incredibly proud of this legacy up until his final days and never ceased to remind us of his fondness toward his fellow firefighters which he considered brothers.
The only thing more important to him than his work was his family and his faithful dog Tarra, who meant the world to him. He spent his leisure time on the beach and working in his yard on the cape with his wife Nora. He will continue to serve as an inspiration to us all with his steadfast determination, tremendous work ethic, sense of humor, and intelligence. He will certainly be missed.
Visitation Hours: Monday, April 5th from 4-7 PM in the John C. Burns & Sons Funeral Home, 305 Broadway, Cambridge. All attendees are required to wear face coverings and practice social distancing; we ask that visitors pay their respects and exit the funeral home promptly to allow other guests to enter.
Funeral Service: Tuesday, April 6th at 9:00 AM in the Burns Funeral Home, 354 Boston Road, Billerica.
Burial to follow at 1:00 PM at South Chatham Cemetery, Chatham, Route 28.
In lieu of flowers, donations in his memory may be made to CLL Society Inc., cllsociety.org