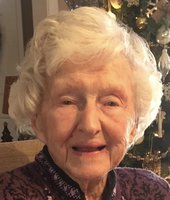 Helen T. Vincunas
Vincunas, Helen T.
Helen Vincunas, (Auntie), 104, of Somerville, MA passed away peacefully on April 4, 2021, following a brief illness. Born in Cambridge, MA on January 2, 1917, she was the daughter of Alexander and Helen (Matiejunaite) Vincunas. Helen was a graduate of Cambridge High and Latin School Class of 1934. She was a life-time member of The Immaculate Conception Church in Cambridge, MA until its closing, and then Helen supported St. Joseph's Church in Somerville, MA. Helen's source of pride and affection was her family. She especially loved spending time with them at her home and summer vacations on Cape Cod.
Helen prescription for a long and happy life was to nourish her body and her mind. Helen loved to travel and she visited many countries around the world following her retirement from New England Telephone (Verizon) in 1982. Helen was a fiercely independent and a remarkable woman. She lived on her own, she managed her home, her daily needs and her personal finances. Helen read constantly, enjoying at least one fiction book a week. She also enjoyed going to the casino, playing solitaire and completing a crossword puzzle each day. At night she loved watching Jeopardy, Dancing With The Stars and her beloved Boston Red Sox and New England Patriots.
Helen is survived by her many nieces and nephews, Elaine and Phillip Axler of Manchester, CT, Gerald Vincunas of Waltham, MA and Lynne Vincunas of Salem, NH. Great nieces and nephews, Sarah and Kevin Rajchel of Glastonbury CT, Matthew Axler and Gina Haynes of Lowell MA, Leah and Orazio Azzarello of Reading, MA and Kurt Vincunas of San Diego, CA. Great-Great nieces and nephews, Dylan and Sydney Rajchel, Mason Azzarello and Angelina Axler. Helen was predeceased by her brothers Anthony and his wife Vicky, Charles Vincunas and his wife Eva, and her nephew James Vincunas. Helen was a devoted daughter to her parents and an attentive sister to her brothers.
Her family would like to extend a sincere thank-you to the Somerville-Elder Services, Right At Home and to her companion Mimi, who spent many hours providing Helen with support and to Ben, Jutta and Emi whom she loved like family. Thank you to her doctor, Dr. Ira Mintzer of CHA, who provided outstanding medical care to Helen over many years. And to the VNA Hospice and Palliative Care of Vernon CT, a special thank-you from the bottom of our hearts to the VNA Hospice nurses, Donna, Topor, Eileen and Gina and to the VNA aides Donna and Fran, for their compassion understanding and care for Helen.
Helen, you touched the hearts of everyone that you met, and your legacy of love and kindness will be missed. Your name will be fondly remembered, honored and cherished.
A funeral mass will be celebrated on Thursday, April 8, 2021 at 11:00 at St. Joseph Church, Somerville, MA. Burial will be at St. Michaels Cemetery, Jamaica Plain, MA.
In lieu of flowers, contributions may be made in memory of Helen Vincunas to Meals On Wheels America.https://www.mealsonwheelsamerica.org/