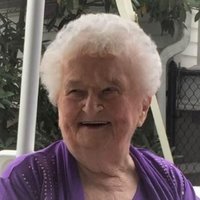 Margaret Mary Morris
Margaret Mary Morris (McCoy) age 90, died Sunday, April 18, 2021, surrounded by her loving family.
Margaret was born in Chicago, IL, the eldest daughter of Charles McCoy and Mary (Jarvis) McCoy. The family moved to Everett, MA.
Marge worked for the New England Telephone and Telegraph Company following her graduation from Everett High School in 1949. That same year, she met Robert Morris. They married in 1952 and settled in Billerica in 1956. Marge loved her family; she enjoyed hosting during the holidays when she would have all to her home and provide more food and drink than anyone could consume. Her second love was to have friends over for the weekly pool party. Marge enjoyed many trips, especially being with her family at Lake Winnipesaukee where she enjoyed the beach and boating. Bob and Marge loved to travel to many places including Ireland, Hawaii, and Yellowstone National Park as well as yearly reunion trips on the east and west coasts. Marge worked for the Billerica Public Schools and retired in 1991.
She was an active member and communicant of St. Mary's of Billerica and the Ladies Sodality. Marge was a true pillar of her faith in her everyday life and prayed the Rosary each morning.
She is survived by her daughter, Patricia A. Teebagy and her husband, Frank, of Braintree, Anne M. Morris of Saco Maine, Robert J. Morris of Billerica, Michael C. Morris and his wife, Lisa, of Billerica, and Maureen M. LaRosa and her husband, Philip, of Billerica. She also leaves her nine grandchildren, Tara Murphy and her husband, Dennis, Kristina Wakefield and her husband, Nathan, Molly, Jake, Dylan and Tyler Morris, and Domenick, Vincent, and Joseph La Rosa as well as one great-grandchild, Peter Murphy.
She was the sister of the late Charles McCoy and Grace Garron. She is also survived by many nieces and nephews.
Funeral from the Burns Funeral Home, 354 Boston Rd., (Rt. 3A), Billerica, Saturday, April 24 at 9:00 AM followed by a funeral mass in St. Matthew Evangelist Parish in St. Mary's Church, 796 Boston Rd., Billerica. Relatives and friends invited. Visiting hours, Friday, 4:00 to 7:00 PM in the Burns Funeral Home. All attendees are required to wear face coverings and practice social distancing. Please sign up for funeral Mass at Funeral Mass Sign-Up. In lieu of flowers, memorial contributions may be made in Margaret's name to St. Jude Children's Research Hospital, St. Jude Fund. Interment, Fox Hill Cemetery, Billerica. www.burnsfuneralhomes.com.