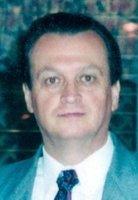 Gerard E. "Jerry" Fortier
Gerard E. Fortier
Born on March 13, 1947 in Lynn, Massachusetts. Passed away April 21, 2021 at Lahey Hospital in Burlington, Massachusetts. Son of Rudolph E. (Duke) and Alma M. (Boisvert) Fortier. Loving brother of Jeanette Chatel, late brother-in-law Louis R. Chatel.
Loving husband to Lidia M. Fortier, who he would have been married to for 42 years on October 7th.
He leaves behind sister-in-law JoAnn G. Recupero and brother-in-law Genaro and his wife Cheryl T. Recupero.
Loving father of Steven J. Fortier. Foster father to Dara Than and the late Darrin Than, and Jeremy Neary.
Caring Uncle to Jessica Ann Lapper (His Princess), Daryl A. and wife Holly, Mira Lapper, Nicholas Recupero, Louis Chatel and wife Denise, Michelle Lajoie, Diane Chatel Lajoie, Courtney Lajoie Mack, Matt Chatel, and his late nephew Robert (Bob) and to his late nephew Mark Chatel.
His grandchildren were the apple of his eyes. A grandchild reaches for your hand and touches your heart forever. He was a loving and amazing great uncle to Leon A. Bullard (His Godson), Lucian E. Wiseman, Jaxson Iannillo and grandfather to Trevor James Neary, Damien Kalleena, Jaslene, and Leah Than.
His passions and true loves were: being surrounded by his family and friends and seeing the world behind a set of handle bars on his Harley Davidson. He loved driving his Ford and traveling the country with his wife and loved ones, snowmobiling and skydiving, watching the patriots and spending time with family, and he also loved his spicy onion rings, hot chips, and a good lobster. Jerry was the kindest and most gentle loving man. Through loving and caring hands Jerry was a man that would give the world to his friends and family without hesitation and did it with a passionate smile. We look to remember Jerry for the great times and his thoughtful actions and words. Earth may have lost an amazing man, but heaven gained an incredible angel. Till we meet again, you will live on through our hearts and souls. You will be missed and loved forever.