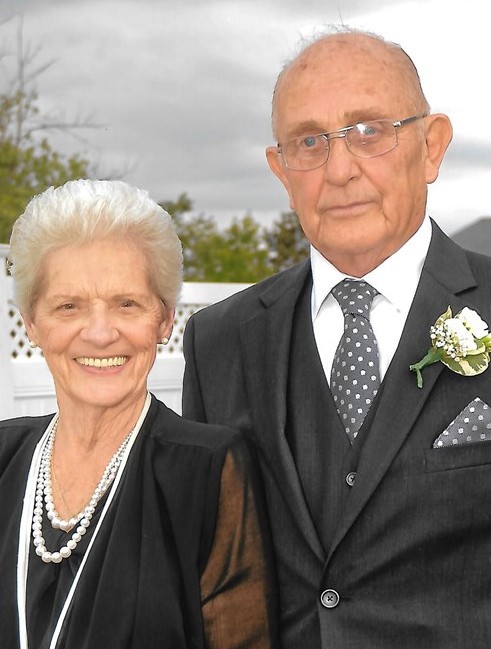 Drusilla A. & Charles C. McCaughey
McCAUGHEY, Drusilla A. (Fidler) & Charles C.
Of Billerica, MA. It is with heavy hearts that we announce the passing of our parents, Drusilla and Charles. Dru passed away on January 10, 2021 and Charlie several weeks later on February 6, 2021. They were both 81 years young.
Born in Boston, MA on August 19, 1939, Dru was the daughter of the late Jacob W. and Anna F. (Evers) Fidler of Billerica, formerly of Charlestown, MA.
Charlie was born in Cambridge, MA on June 23, 1939, the son of the late Michael F. and Harriet E. (Daigle) McCaughey of Cambridge, MA.
Dru worked for many years, and eventually retired from the Lowell Registry of Motor Vehicles. Charlie was a long-time valued employee of Varian Corp. in Lexington, where he later retired.
Together they leave behind their 5 children, Stephen and his wife Naomi of Billerica, Debra Jordan and her husband Richard of Tyngsborough, Diane Stefaniak and her husband Brian of Billerica, Denise Burroughs and her husband James of Mendon, and Michael and his life partner Annie Burgess of Lowell. They leave 12 grandchildren who they adored, 3 great grandchildren, and countless nieces, nephews, cousins, and friends. Their beloved grandson, Michael David, passed before them.
Dru is survived by her only brother Wendell Fidler and his wife Mary. Charlie is survived by his sister Francis Knight and her husband Robert, and brother Joseph and wife Mary- Anne. Predeceased are brothers Michael (Sonny) and John (Jack) and sister Elizabeth (Betty) Meurant who he loved deeply and greatly missed all these years.
Dru and Charlie enjoyed square dancing in their younger years, RV camping, and spending time in Salisbury and PEI with many friends & family. Their greatest joy was being at home surrounded by their own family and adored little dog, Molly. Family was always MOST important.
Although Charlie worked several jobs simultaneously, and Dru worked tirelessly in and out of the home, they always made time for their children. Whether it be packing the car for a 5 am departure to enjoy the day at Story Land, or hiking Mt. Cardigan with the cousins, spending a day at Hampton Beach, or a weekend camping trip, they always strove to create wonderful memories and loads of fun for their kids.
Married for 61 years, Dru and Charlie were inseparable, enjoying each other to the fullest each and every day. They weren't just husband and wife, they were best friends, bringing out the best in each other, often finishing each other's sentences without skipping a beat. They laughed (a lot) and cried together. Their love ran deeper than the roots of any tree. Charlie affectionately referred to Dru as "my girl." They never passed judgement on others and were always there to lend a helping hand for anyone in need. They were patient and kind, and true to themselves; good people who are loved by many. They instilled values and life lessons to all of us and we are forever grateful for that. Our hearts are broken, we miss you so much Mom and Dad. Rest in peace.
Due to Covid, services for Dru and Charlie will be restricted to family members.

"When a mother and/or father dies, we lose a piece of who we are. We lose those special people whose story provides the beginning of our own."