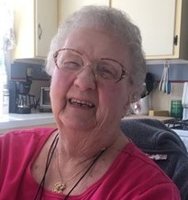 Ruth E. Boutilier
Ruth E. Davidson Boutilier passed away on May 21, 2021 just as she had wished, at her own home surrounded by people who loved her. She was many things to many people during her long life; she was a Mother, Grandmother and Great Grandmother. She was a daughter, a sister, a confidant and most importantly Ruthie B was your friend.
Ruth is survived by her loving children and their partners: Karol and Mike Pruett, Mark Boutilier and Kim Forrest, Patti and Chuck MacGillivray, and Joyce and Henry Transue. She is celebrated by her Grandchildren: Michael, Kristi, Erin, Scott, Adam, Ellen and Emily. Her memory is carried on by her Great Grandchildren: Lea, Kolton, Mitchell, Michelle, Jarrett, Jameson, Riley, Anya, Savana, Scott and Saige.
Ruth was kind and welcoming to all. Whenever needed, she was available for hugs or smiles; always making sure everyone was comfortable. Ruth was just easy to be with. Her passion for fellowship and devotion to her Church family were central to Ruth's life. Her hard work and dedication taught her family resilience, as well as the importance of fun. Ruth loved to laugh and did so right up to the finish, her mantra being "If you don't laugh, you have a problem."
Ruth was an active member of the First Congregational Church of Billerica where she sang in the choir and served on many committees; she was a founding member of Billerica Community Theater and performed in countless shows. Ruth was the Medical Secretary for Dr. Manuel Coggan for over 25 years and was proud to raise her family thru her own hard work. She was an inspiration to many.
Ruth brought joy to all and we are blessed to have been the recipients of her wisdom, patience and forgiveness. We have lost a Mother, a Friend, a Trooper, a Champion and a Legend. We will miss her laughter, her sense of humor, her sound advice and her open, welcoming embrace.
A Memorial Service to celebrate Ruth will be held at 10:00 AM on May 29, 2021 at the First Congregational Church of Billerica. The family kindly requests cheerful colors in honor of Ruth, her favorite color being blue. In lieu of flowers, the family asks that you make a donation to her church Music committee.