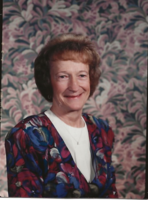 Barbara L. Reichert
Barbara L. Reichert
July 8, 1933 – May 24, 2021
After a brief illness, Barbara passed away in her sleep on May 24, 2021 at the age of 87 in Billerica, MA. She rejoined her husband, Fred, who pre-deceased her in 2018. They shared and enjoyed 66 years of married life together.
Barbara was born and raised in Watertown, MA. Following several years of early married life in Belmont, she moved to Burlington, MA where she and Fred raised their son, Carl. Barbara worked tirelessly for her family and also worked in the community as a Matron Officer for the Burlington Police Department. After leaving the BPD, she worked for many years at MACOM before retirement. Her volunteer spirit in the community was evident in supporting Little League baseball, Pop Warner football and Burlington High School athletics.
In 1993, after 32 years in Burlington, Barbara and Fred retired to Longs, SC. They built a home in a growing golf and social community, where Barbara was a member of the Women's Golf League. She made many new friends and enjoyed an active social life with Fred and their new friends. She volunteered at the Humane Society of North Myrtle Beach and at many varied charity and fund-raising events throughout the area.
Barbara was an avid walker and her retirement to SC allowed her to walk for miles without hills or snow. She was a loving mother and grandmother, a good friend and neighbor to many and she really loved those Boston Red Sox.
Barbara was also pre-deceased by her siblings, Howard, Betty and Bobby. She is survived by her son Carl and his wife Linda; her grandsons, David and his wife Lauren and Michael; as well as many extended family members and friends throughout the country.
At Barbara's request, there will be no services.
If you would like to remember/honor Barbara, donations may be made to Dana-Farber Cancer Institute in memory of Barbara L. Reichert to support cancer research and patient care at Dana-Farber Cancer Institute, P.O. Box 849168, Boston MA 02284 or via www.jimmyfund.org/gift.