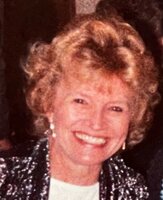 Florence M. "Flo" Giacoppo
Florence Giacoppo, age 84, who resided in Billerica for over 60 years has passed over to Heaven to be with her beloved Husband of 58 years, Phil on September 15, 2021. She was born August 30, 1937 in Somerville, to the late George and Florence Martell. Loving mother of Christine Goucher and her late husband, Frank of Pelham NH, Debbie and her husband, Jimmy Kelley of Billerica and Phil and his wife, Sue Giacoppo of Pelham,NH. Loving grandmother of 7 and their spouses; Frank, Jason and Amy Goucher, Jennifer and Tom McNamara, Christine and Zac Farmer, Jamie and James Elder, Zachary and AJ. She was the loving GG to her 10 Great-Grandchildren,
Luke,GIavanna,Cameron,Zachary,Travis,Jackson,Levi,Easton,Nikolaus and Oakley....
Flo loved spending her time traveling to DIsney,Epcot and Universal with her grandchildren and traveling with her family to Aruba,Italy and cruising the various Islands in the Carribbean. Her house was always filled with family and friends and her life included many GermanShepards and recue dogs and cats... Flo is also the sister-in-law to Mike Giacoppo of Burlington Ma, Russel and Margy Giacoppo of Malden and DeeDee Martell of Florida. She was the sister of the late Eleanor Rogers,George,Tom,Roy and Don Martell and the late
sister in law of Angie Demeo and Thelma Giacoppo. She also leaves many nieces and nephews.
The Family would like to send special Thanks to her niece Tammy Rogers and The Lahey Hospice Care Team
Her commital services will be private, per her request.
For those wishing to make a donation in her name they may at the Diabetes Foundation or the
Northeast Animal Shelter where she adopted her beloved Harry.