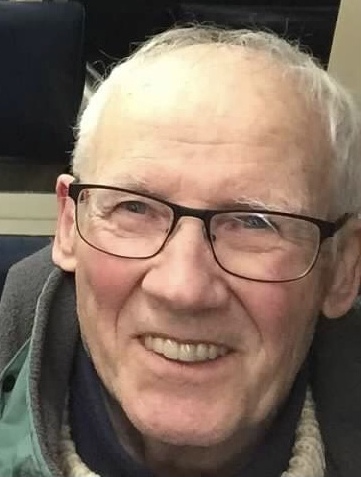 Alan J. Wright
OBITUARY FOR ALAN JAMES WRIGHT, Billerica, Massachusetts.
Alan James Wright, 89, of Billerica, died of natural causes on September 16, 2021. He was a beloved husband and father of three, with 11 grandchildren and six great-grandchildren. He lived a long and blessed life of love, devotion, and service to family, friends, church, community, and country. He was an avid hiker and world traveler, a mathematical whiz, and an officer and a gentleman. Widely read in military history, he was "old school" in the best sense of the term, with a quick wit and an irreverent sense of humor, even to the end.
Alan was born on February 27, 1932, in Schenectady, New York, the only child of Alexander Brown Wright and Pearl Mae Wright (née Brockman). Growing up in the midst of the Great Depression and World War II, he nonetheless had a happy childhood. Following high school, he enrolled in Union College in Schenectady, where he was a member of Phi Gamma Delta fraternity and the ROTC. He enjoyed his college days, perhaps a little too much, but he did graduate, receiving a Bachelor's of Science degree in General Science. In June 1953, he was commissioned a Second Lieutenant in the U.S. Air Force, and he entered on active duty the following March. He served for almost 22 years, retiring in February 1976. Having a good head for numbers--leading his classmates at his Squadron Officer School Class at Maxwell Air Force Base to dub him the "human computer"--Alan worked in various finance or technical assignments throughout his military service.`
Early in his Air Force career, Alan was stationed outside of Tokyo, Japan, where he met a beautiful, young Japanese woman, Yoshiko Asano, who worked in the same office. Alan worked up the nerve to ask her out to dinner and a movie (Sabrina, starring Audrey Hepburn) and they never looked back. Married on December 15, 1955, Alan and Yoshi enjoyed over 65 years of a wonderful marriage, living in such diverse places as Montgomery, Alabama, Albuquerque, New Mexico, Edgewood, Maryland, and Fairborn, Ohio, before finally settling in Billerica, Massachusetts in 1971, when Alan was stationed at Hanscom Air Force Base. Along the way, Alan earned a Master's Degree in Business Administration from Wright State University in Dayton, Ohio—a degree he put to good use in his post-military career. Alan was a lifelong learner, from taking Japanese language classes in Tokyo, to night school classes wherever he was assigned, to taking computer classes in the 1990s.
After retiring from the Air Force, Alan worked as the assistant director of field audit for the Massachusetts Division of Insurance for 2½ years. His time there was marked by controversy within the industry over fraudulent cancer insurance policies. Alan's contributions to developing and publishing a report that exposed deceptive practices in marketing and selling cancer insurance led to his being forced out, but his actions demonstrated his integrity and moral courage to do the right thing. Indeed, Alan helped to shine a light on the fraud when he testified before a committee of the U.S. House of Representatives in March 1980 on the cancer insurance issues. He then worked as the chief finance officer for the Massachusetts Horticultural Society until he finally retired for good in 1993.
Full retirement, however, did not mean a leisurely ride into the sunset. For the next 25 years, Alan and Yoshi traveled extensively throughout Europe and North America, and made numerous visits to Japan. They also took up cross-country skiing, eventually buying a condominium in Bretton Woods, New Hampshire, which became their happy place throughout the year. Naturally, they also began hiking the many trails of New Hampshire's White Mountains, and they even climbed 45 of the 48 peaks over 4,000 feet. Remarkably, Alan did all of this despite his suffering from Charcot-Marie-Tooth Disease, a degenerative nerve disorder in which the peripheral nervous system fails. In Alan's case this resulted in the weakening and ultimate wasting away of his hand and leg muscles. He bore this affliction with dignity and grace and never complained about his condition, even as the disease took away much of his independence.
Throughout his 50+ years in Massachusetts, Alan was very devoted to the community, serving at various times as a deacon, trustee, or finance officer to the Tewksbury Congregational Church, where he and Yoshi were members for over 30 years. Alan also volunteered his time teaching English to immigrants in Lowell and Somerville and assisting people with preparing their income tax returns. Always the gentleman and never one to put on airs, Alan was courteous and chivalrous in his dealings with others to the end of his days.
Alan is survived by his devoted wife Yoshiko and all of his children, grandchildren, and great-grandchildren. He was the beloved father of Pamela Meyers and her husband Tony, of Tuckasegee, North Carolina; Philip Wright and his wife Julia, of Nairobi, Kenya; and Jim Wright and his wife Deb, of New England. His eleven grandchildren and their spouses and children include Alexander Meyers, with his wife Aya and son Axey of New York, New York; Brendan Meyers, with his wife Sara, and daughters Finley and Islay, of Londonderry, New Hampshire; Chandler Meyers of Roswell, Georgia; Mallory Decker, with her husband Dan, and son Huck of Boulder, Colorado; Kelsey Morgan, with her husband George, son George and daughter Josie Mae, of Dallas, Texas; Audrey Wright of Washington, District of Columbia; Joseph Wright and his wife Nikki, of San Diego, California; Hannah Wright of Denver, Colorado; Grace Wright of Eugene, Oregon; Isaac Wright of Amherst, Massachusetts; and Willy Wright of Ithaca, New York. All of the grandchildren cherish their memories of "Poppop," including his funny jokes and songs, love of Ovaltine and oatmeal, and inability to carry a tune.
A memorial service celebrating Alan and his long, remarkable life will be held sometime in the late spring of 2022. For those so inclined, please consider making a charitable contribution in Alan's honor to the Tewksbury Congregational Church or the Charcot-Marie-Tooth Association, which may be reached at Charcot-Marie-Tooth Association