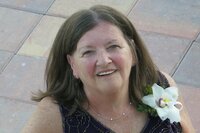 Barbara A. Maslin
Barbara Ann Maslin (Normile), 77, passed away on September 23 at her home in Billerica. Her final hours were quiet and peaceful, and her family remained at her bedside until she was ready to depart. Barbara was predeceased by her husband of 46 years, Tom. She is survived by her children, Matthew Maslin, Kelly Murphy (Maslin), and Andrew Maslin; her sister, MaryEllen Cerullo (Normile), and brother, Jack Normile; her nieces, Carol Dempsey (Cerullo) and Nancy Cerullo, and nephews, Michael Cerullo and Adam and John Normile; her daughters-in-law, Melissa and Linda Maslin; her son-in-law, Dan Murphy; her dear friend, Terry Loveless; cousins, grandnieces and grandnephews, step-grandchildren, in-laws, and loyal friends; and the apple of her eye, her granddaughter, Emma Maslin.
Barbara Normile grew up in East Boston. After graduating from high school, she went to work for Bank of Boston, where she met her future husband, Thomas Maslin. The pair married in 1971 and moved to Billerica in 1979, with two young children and a third on the way. Barbara was a devoted mother, staying home for years to raise her family before returning to work as a paraprofessional at the Ditson Elementary School.
Barbara's energy for her family was boundless. She found time for weekend soccer games, early morning hockey practices, dance recitals, and school functions; changed diapers, gave hugs, wiped tears, packed lunches, and always put dinner on the table; survived the endless drama of raising three teenagers; attended graduations, weddings, birthday parties, and family cookouts; and when her husband suffered a stroke, her strength and support were instrumental to his recovery.
While she loved celebrating the holidays and traveling to Florida to visit family, Barbara mostly found joy in life's simple pleasures—a good book, a challenging puzzle, the daily crossword, a cup of tea with milk and sugar. She loved lighthouses and music, Jeopardy! and true crime dramas, lunches and dinners out with friends. And she loved being with people. She could swap stories and gossip for hours on end. No detail was too mundane.
When Barbara's health began failing in her 70s, she demonstrated a powerful inner strength that never ceased to amaze her loved ones and caregivers. Her ailments became more regular and increasingly serious. She lost her husband to a second stroke. She endured the isolation of the pandemic. She rarely complained.
Instead, Barbara found new sources of strength. She derived immense satisfaction from remaining in her home despite her compromised mobility. She relished visits and calls from friends and family. And while Barbara enjoyed special relationships with each of her children, her granddaughter Emma was truly the light of her life. She eagerly looked forward to receiving daily photos and videos of Emma from Florida, which she gleefully shared with her visitors. Her regular video calls with Emma could brighten her darkest days. It would be impossible to overstate the affection Barbara had for her granddaughter or the joy that Emma brought her.
Barbara Maslin leaves this world and reunites with her husband, parents, and other loved ones who have gone before her. Her living family will always remember and admire her incredible strength, but it's her warm smile and big heart that they'll miss the most.
Visiting hours for Barbara will be held at Burns Funeral Home at 354 Boston Road in Billerica on Tuesday, September 28, from 4 to 7 p.m. A funeral mass will follow on Wednesday at 10 a.m. at St. Matthew the Evangelist Parish (formerly known as St. Mary Catholic Church) at 796 Boston Road in Billerica. Anyone who would like to celebrate Barbara's life is welcome to attend.
In lieu of flowers, donations in Barbara's memory can be made to:
Billerica Scholarship Foundation
Town Hall—Treasurer's Department
365 Boston Road, Billerica, MA 01821. Billerica Scholarship Foundation