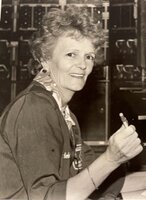 Helen Yianacopolus
Helen Yianacopolus passed away on October 3, 2021. She was the daughter ofMarquerite (McPhee) and Albert Tremblay of Stoneham; and was the mother of Scott Yianacopolus (and wife Merilyn) of Lynnfield; Keith Yianacopolus (and wife Maryellen) of Billerica; Robin Yianacopolus of Chelsea; Darren Martens (and wife Melissa) of Boca Raton, FL; and the late Gregg Martens of Chelsea. Helen was the grandmother of Keith Yianacopolus, Jr., Kristyn Yianacopolus Cavallaro (and husband Dominic), Nicole Yianacopolus, Alicia and Andrew Martens; great-grandmother of Dominic and Julyiana Cavallaro; aunt to many nieces and nephews; and dear cousin to the "South Shore ladies". Helen was pre-deceased by his husband, John Yianacopolus, and by her beloved sisters, Florence Surette and Mary Louise Hughes.
Helen was born April 3, l939, and was raised in Stoneham where she attended school. She worked for many years at Western Union Security Company, Wells Fargo and ADP, both in Massachusetts and Connecticut. Also, she was a very accomplished crafts-person, a talented seamstress and a great cook. She enjoyed many crafts, especially quilting and numerous sewing projects, which she did exceptionally well. Her homemade items were too many to name and were extremely unique and beautiful. Helen loved all seasons which was apparent with the exquisite decorations she created for each and every holiday, she had a passion for dolls and love to make many wonderful "children" (her kids, as she called them) She was most known artistically for her fabulous, one-of-a-kind teddy bears. They were her greatest passion as a hobby, and she dressed them beautifully and stylishly. They all had a distinct "personality" as shown by the various expressions on their cute faces.
Helen went through many difficult health issues during her life and was amazingly strong throughout each ordeal. She endured several bouts of cancer over the years and did remarkably well after her surgeries, radiation and chemo treatments. She was a strong, resilient woman! She continued to enjoy outings and activities at the Senior Center and had even begun a few new sewing projects, right up to the end of her life. She will be greatly missed.
Visiting hours for Helen will be held at Burns Funeral Home at 354 Boston Road in Billerica on Saturday, October 9, from 10:30a.m. to 11:30a.m. A memorial service will follow immediately.