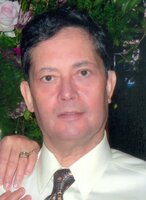 Michael D. Segool
Michael David Segool
Michael David Segool, 65, passed away at Brigham and Women's Hospital in Boston, MA on November 2, 2021. Michael overcame several medical challenges during his lifetime, until he succumbed to heart disease.
Michael was born on January 25, 1956 and spent his childhood in Brookline, MA.
He is preceded in death by his parents Harold and Cynthia Segool of Boston. He is survived by his wife Marianne "Rena" Senko Segool, sister Terri Halliday, brother Peter Gately, and nieces and nephews.
Michael earned a BS- in Computer Engineering from Northeastern University and also completed a AS in Biotechnology, both with honors. During his professional career, Michael worked as a Senior Engineer for both Raytheon and Digital Equipment Corporation, and in Validation Support for Bristol-Myers Squibb.
Telescopes, N-Scale trains, Apple computers and gardening were all hobbies Michael enjoyed. He was a music aficionado and assembled high-end components into his stereo system. Another favorite couple activity was watching the Phantom Gourmet food show together and traveling to and eating at the different restaurants featured on the show.
Michael and Marianne are grateful for the Calvary Church of Chelmsford, MA where they have had a strong network of friends and support over the last 17 years. Michael and Marianne served as co-leaders of the A616 Outreach Ministry for eight years there.
A Celebration of Michael's life will be held at the Calvary Chapel of Chelmsford on Sunday December 12, 2021 at 3pm and also be live streamed for those who can't travel. www.chapelchelmsford.com
The family would like to give thanks for Pastor Ed Conway, the doctors and nurses at Brigham and Women's Hospital for the care they gave to Michael, and the extensive support from friends and family sent via texts, phone calls and visits.
Burns Funeral Home of Billerica is honored to serve the Segool family. Donations in Michael's memory can be sent to the New England chapter of The Lupus Foundation at support.lupus.org.