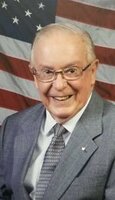 Gordon E. Lander, Sr.
Gordon E. Lander Sr., age 87 of Billerica, Massachusetts, passed away surrounded by loved ones on November 7, 2021. He was born August 8, 1934, and spent his youth in Medford before settling in Billerica with his wife Irene, where they created a loving home for almost 60 years.
A machinist by profession, Gordon was also a jack-of-all-trades accomplishing anything he set his mind to. He could always be found puttering in his workshop making furniture for dolls, fixtures for toy trains, and many other things creating special keepsakes for his family and grandchildren.
He enjoyed antiquing and attending flea markets and yard sales. He loved being outdoors in all seasons, working in the yard, gardening, camping, hunting, boating (especially on Lake Champlain), and fishing with his son and grandson. His favorite winter activity by far was riding in the passenger seat of his son's truck while he plowed snow, preferably with a large golden retriever between them and a cup of hot coffee in his hands. However, everyone knows a hot cup of tea was his beverage of choice, Salada, to be exact!
Gordon loved spending time with his family and friends. He enjoyed decorating for the holidays, especially Halloween and Christmas. He loved animals especially bunnies, puppies and kittens. He was an avid traveler visiting friends and family coast to coast with special stops in Great Falls, Montana; Newfoundland, Canada; Bradenton, Florida; the Grand Canyon Skywalk; and Las Vegas.
In recent times, he found joy in quiet activities: watching his favorite television shows, NCIS, Bluebloods, and Longmire, building Lego sets, painting, catching up by video chatting and phone calls. When his wife was at bingo, he won many games of Uno, Yahtzee, and Sorry, while listening and singing to his favorite songs.
Gordon loved his family and they loved him. He was a strong shoulder to lean on or an arm to hide under when the movie got to scary, always available to lend a helping hand to others. Husband, father, grandfather, great-grandfather, brother, uncle, friend. He was all these things and so much more. He will be missed dearly.
Gordon is survived by his loving wife, Irene E. Lander, with whom he shared 62 years of marriage. He is also survived by his son, Gordon E. Lander Jr. and wife Patricia, and his daughter Catherine Barbas and husband Steve, all of Billerica; his grandchildren, Nicholas Barbas of Billerica; Caitlin Barbas and fiancé Alex Silva of Bloomington, IN: Jason Dumont and wife Natalie of Boston; his great-grandson Max Dumont; his brother Harold C. Lander and wife Carole of North Reading; his sister-in-Law Mary Lander of Billerica; his granddogs Benson and Candie; and grandkittens Xenja and Nova; and many nieces and nephews.
He is preceded by his father Isaac Lander; mother Violet Lander; brother Harvey; sister Maude Lander Churchill; and grandson Scott Dumont.
Gordon was employed by Sylvania and Polaroid Corp. where he retired after 25 years. He was a member of The Thomas Talbot Masonic Lodge and Wilmington Aleppo Shriners, serving at one time as Personal Aide to the Potentate Donald "Al" Flight. Gordon served as Sergeant in the Army stationed at Aberdeen, Maryland from 1955 to 1958.
Services will be private at the request of the family.