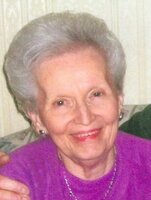 Dorothy Ann Fuller
Dorothy Anne (Snell) Fuller
April 1, 1931 - November 27, 2021
Dorothy was born in Brockton, MA and attended Brockton High School. She grew up
attending First Baptist Church of Brockton.
After graduating from Brockton High School in 1949 she spent two happy summers on
Cape Cod as a waitress at the Park Beach Hotel in Falmouth Heights, MA. After her
education at the Chandler Secretarial School in Boston, she worked as a telephone
operator for New England Telephone in Brockton.
When her sweetheart, Sam Fuller, was serving his country in Germany she sent him
letters and brownies while they were apart.
When he returned home they married in November 1953. They lived in Brockton for a
few years where they had their sons Brian and Bruce. In the early 1960's the family
moved to Billerica MA and lived there for over 50 years.
After raising her young boys, Dorothy began a teachers aide job at Fox Kindergarten
and then at the Locke School in Billerica where she worked for 30 years. The family
attended North Billerica Baptist Church for many years where Dorothy was in a
women's group she loved. She prided herself on being the best salesperson for their
lobster lunch fundraiser every year.
All of her life she kept in touch with her friends, from secretarial school and her work
years. Dorothy loved reading the Boston Globe every day and drinking her coffee. She
enjoyed drives with Sam through the countryside and to the ocean. She especially
enjoyed their yearly vacations to Cape Cod and to Maine with her family.
She loved her sons, granddaughters and great-grandsons and enjoyed seeing them as
often as possible.
Dorothy was predeceased by her parents, Jerome Snell and Ann (Frasier) Snell of
Brockton MA, and by her brother, Jerome Snell Jr.
Dorothy leaves behind her husband of 68 years, Samuel Fuller,
Her sons, Brian S. Fuller and his partner Carrie Bickford of Rockland, ME and
Bruce J. and his wife Pat Fuller of Newfields, NH,
Granddaughters Harmony Fuller of Rockland, ME, and her son Maddox Young,
Sally Fuller and her partner Josh Curtis of Spruce Head, ME, and their son Samuel.
And many nieces and nephews.