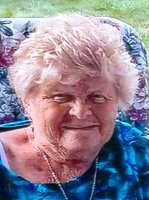 Sheila A. Small
Small of Billerica, December 11, 2021, Sheila A. (Connelly) Small, age 85. Beloved daughter of the late William and Dorothy Connelly. Devoted mother of William Small and his wife, Diana, Karen Demo and her husband, Mike, Julie Miller and husband, Kevin, Susan Berry and husband Jon and Donna Walsh and husband, Paul. Beloved sister of Dottie Gentile and husband, Danny, Nancy Smethurst and husband, Bob, Marilyn Dooley-Girardi and Ginny Baudanza and her husband, Frank. Her loving grandchildren Kevin Millar, Eric Millar, Jeff Chetkauskas and Cherie Curtis as well as twelve great grandchildren. Sister of Kaye McIntosh and her husband, Norman and her brother-in-law James Dooley.
Sheila was a spunky little woman, always trying to do everything. She was an active member of the Billerica Moose Lodge for over 50 years having achieved a lot of goals. She enjoyed travel for different conventions, in many states. She had an incredibly good friend Diane who would travel with her and if Diane did not go, neither did Sheila. She was very involved with ceramics. She loved doing and teaching it so much she opened her basement up to it. She would pour the molds fire them and then paint them. You could always expect a ceramic piece for almost any occasion, this was her passion. She loved to spend time with family and especially her grandchildren and great grandchildren. The great grandchildren called her gram nana and she loved it. She will be dearly missed by all who knew her and loved her.
Funeral from the Burns Funeral Home, 354 Boston Rd., (Rt. 3A), Billerica, Friday, December 17, at 9:00 AM followed by a funeral mass in St. Matthew the Evangelist Parish at St. Theresa's Church at 10:00 AM. Relatives and friends invited. Visiting hours, Thursday, from 4:00 to 7:00 PM.