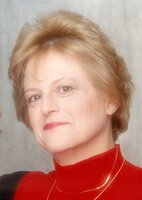 Carol M. Farrington
Carol M. Farrington, a longtime Billerica resident, died at her home on Wednesday, December 15, 2021.
She was the daughter of the late Yvonne Nichols-McDonald and the late Edward Nichols.
Carol was a highly motivated and strong woman who always dreamt of becoming an AKC championship breeder of boxers, which she accomplished through hard work and determination. She was a strong headed yet caring person and a proud independent dog groomer. Carol proudly operated her dog grooming business, Carol's Pet Care, for almost 40 years in North Andover. She took extraordinary pride in her accomplishments, especially those in her home and her yard. In her spare time, she enjoyed snowmobiling, day trips, and time with friends and family.
Carol will be missed by her close friends and family. We will always remember her as our mom and will always love her to the moon and back no matter the differences we had through the years.
She is survived by her daughter Ann Marie Farrington, her son George Farrington Jr., her grandsons Devin and Dylan Farrington, her sister Shirley Lucas, and her nephew Donald Whiting.
She was preceded in death by her late brother Robert McDonald.
She will also be missed by her faithful companion Jaxon who she loved dearly
A memorial wake will be held at Burns Funeral Home, 354 Boston Rd. Billerica, MA on Sunday, December 19, from 12:00pm – 3:00pm. Relatives and friends are invited.