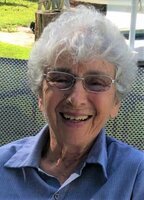 Janet D. Gambale
Ms. Janet Diane Gambale of Billerica passed away on Thursday, December 30, 2021 at Melrose Wakefield Hospital.
She was born in Cambridge on May 29, 1940, daughter of the late John and Mary (Capobianco) Gambale.
Janet worked for Delta Airlines as a Cargo Screening Supervisor and after retiring she worked part-time at the Middlesex Community College in Bedford.
She enjoyed spending time with her family and her greyhounds. She enjoyed working outdoors and especially loved her cottage in Maine. She was simply the best sister, aunt, great-aunt, cousin, and friend.
She is survived by her siblings; Kathleen and her husband Paul Rea, MaryAnn Cann, Richard and his wife Lynda Gambale, Patricia and her husband Ted Vucurevich, Jack and his wife Cheryl Gambale, Kenneth Gambale, Robert and his wife Victoria Gambale; her close family friend, Melba Smith, and many cousins, nieces, nephews, great-nieces, and great-nephews.
Visiting hours will be on Friday, January 7, 2022 from 4:00pm - 7:00pm at Burns Funeral Home, 354 Boston Rd. Billerica, MA 01821. Funeral from the Burns Funeral Home, 354 Boston Rd., (Rt. 3A), Billerica, Saturday, January 8, at 9:00 AM followed by a funeral mass in St. Matthew the Evangelist Parish at St. St. Theresa's Church, Billerica at 10:00 AM. Relatives and friends invited. Interment, Fox Hill Cemetery. www.burnsfuneralhomes.com