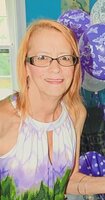 Joyce H. Cann
Joyce Helen Cann, 66, passed away unexpectedly on March 19, 2022 with her children by her side. She will be loved and missed forever. She was born on August 9, 1955 in Salem, Massachusetts to Dorothy and Donald Cann. She graduated from Salem High School and Middlesex Community College.
Joyce had a great work ethic and was a hard worker. Her favorite place to work was Iron Mountain. She had a great personality. She was outgoing, had a great sense of humor, and was down to earth. She loved going to the beach, swimming, cooking, gardening, looking at the birds, and watching her crime shows. She enjoyed residing in Bartow, Florida when she moved there in 2016.
Joyce loved her grandchildren and was like a second mother to Krysta, Jacob, and Dylan. They would call her "Gigi". She went to all their school functions, sport games, and loved cooking for them and doing arts and crafts. Her grandchildren were the love of her life.
She is survived by her son, Jason Ballum of Tewksbury; daughter, Kelly Mellen and her husband Eric Mellen of Tewksbury; five grandchildren, Krysta McCallion, Jacob and Dylan Mellen, Kaitlynn and Breela Ballum; sister, Donna Kimball and her husband Randy of Danvers; two brothers, Jeff Cann and his wife Carrie of Ipswich; Donald Cann Jr. and his wife Susan of Danvers. She also had two nephews, three nieces, and lots of friends.
Memorial visitation will be held on Tuesday, April 5th at the Burns Funeral Home, 354 Boston Rd., (Rt. 3A), Billerica, from 4:00pm to 7:00pm. Relatives and friends invited. www.burnsfuneralhomes.com