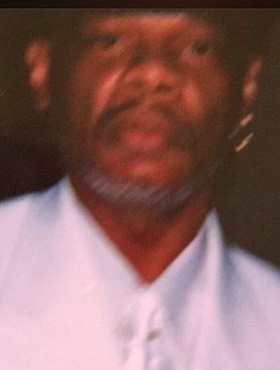 Andrew R. "Jr." Swanson
Andrew Roger Swanson Jr, 68, passed away on Tuesday, March 29 at Parson Hill Health Center in Worcester.
Beloved husband of Maude Swanson, he was the son of the late Andrew Swanson Sr. and the late Gloria Swanson of Staten Island, NY.
Our dad had four brothers, one sister, and a number of aunts and uncles that will remember him as a disco jock. His last job was as a security guard but people in the neighborhood know him for DJing in the community. Like most of the world, he navigated life as it came to him; sometimes with broken scars and other times with lessons learned through ancestral curses which sometimes he couldn't break and passed on through his kin. The music that you heard from him depended on what type of mood he was in. Like Forrest Gump said, "You never know which one you're going to get" within a day of musical interludes of Andrew's liking. He had a passion for movies and loved pit-bulls. He enjoyed cooking. Even though he didn't cook often, you knew you'd better eat all his food or there would be consequences. Not all methods used for reaching understanding with a man that had to teach himself how to be a man at an early age were the best; mistakes were made, but all he'd known is tough love so that was what he gave. Music was his expression to give out and we hope you're dancing to your own tune now that you're at peace. You will be missed and cherished.
Besides his wife, Andrew is survived by nine children, and three children that he took care of growing up; Lisa Ervin, Lakisha Thomas, Andre Thomas, Latonya Thomas, Tarsha Thomas, Moniaya Miller, Janice Miller, Andrew Swanson, Kyle Swanson, Cory Swanson, and Raymond Swanson. He is also survived by forty grandchildren.
Memorial wake will be on Saturday, April 16, 2022 from 3:00pm – 5:00pm, followed by a prayer service from 5:00pm – 6:30pm at Burns Funeral Home, 354 Boston Rd. (Rt. 3A), Billerica, MA 01821. Relatives and friends are invited.