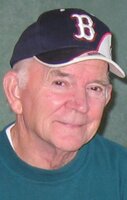 Joseph E. "Joe" Trickett
Merrimack, NH- Joseph E. Trickett, age 88, passed away on Wednesday, May 4th after courageously fighting cancer.
Joe was born in Chelsea, MA. He was one of ten children born to the late Kenneth and Sarah (Head) Trickett. On May 5, 1962, he married the love of his life, Karen M. Macumber. They made their home in Chelsea until 1972 when they moved to Billerica and raised their two daughters, Mary and Andrea. Joe was a carpenter by trade, building many homes, additions, and Boston skyscrapers.
Joe lived a full life. At one time, he was a member of the Lieutenant Norman Prince Senior Drum and Bugle Corp before moving on to manage the Saint Rose Drum Corp in Chelsea. Joe enjoyed many activities. He loved to ski and golf and was a passionate Boston sports fan, holding a season pass to the NE Patriots for many years. He loved to dance and was usually the first one on the dance floor. He enjoyed traveling with family and friends, enjoying destinations like Italy, Ireland, Switzerland, many cruises and exploring the US.
Joe will always be remembered for his gift of making people smile and laugh. His many jokes and stories are a big part of his legacy.
Joe, a devoted family man, loved attending all his children and grandchildren's sports and activities. He was their biggest fan, attending high school band concerts, dance recitals, cheerleading competitions, football, and soccer games. His family would always get a special blessing on their forehead when he said goodbye.
Joe was very proud of his hometown of Billerica. Even after his own children graduated from high school, Joe continued to attend football and hockey games for Billerica High School. He was the epitome of town pride.
Joe was the beloved husband of 60 years of Karen (Macumber). He was the loving father of Mary Hommel and husband, Richard, of Billerica, and Andrea Kelly and her late husband, Michael, of Londonderry, NH, and proud Papa of Emily and Victoria Hommel, and Ryan and Erin Kelly. Joe was the brother of Barbara Dyer, Gerald and James Trickett and the late William, Charles, John, Virginia Cubetus, Elizabeth Bradford, and Edith Staskawiscz.
Funeral from the Burns Funeral Home, 354 Boston Rd., (Rt. 3A), Billerica, Wednesday, May 11, at 9:00 AM followed by a funeral mass in St. Irene's Church, Carlisle at 10:00 AM. Relatives and friends invited. Visiting hours in the Burns Funeral Home, Tuesday, 4:00 to 7:00 PM. In lieu of flowers memorial contributions may be made in Joe's name to St. Jude Children's Research Hospital, St. Jude Children's Research Hospital. Interment, Fox Hill Cemetery, Billerica. www.burnsfuneralhomes.com