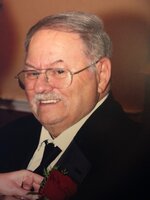 Phillip E. "Phil" Quinlan
Obituary:
Phillip E. Quinlan, lovingly known as Papa Q of North Billerica, passed away June 23, 2022 after a brief illness. Beloved husband of Bernadette (Callahan) Quinlan. Visiting hours will be held at the Burns Funeral Home, 354 Boston Rd., (Rt. 3A), Billerica,Sunday, June 26, from 4:00 - 7:00 PM. Funeral from the Burns Funeral Home, Monday, June 27, at 9:00 AM followed by a funeral mass in St. Matthew the Evangelist Parish at St. Andrew's Church, 45 Talbot Ave, North Billerica at 10:00 AM. Relatives and friends invited. www.burnsfuneralhomes.com
Phil was born in Cambridge to Dorothy Quinlan on January 14, 1940. He went to high school at Cambridge Rindge and Latin. He worked as a driver for the City of Cambridge and as Transportation Coordinator at Middlesex Community College for over thirty years.
Phil was a friend to everyone he met. Always a smile on his face when he saw family and friends. His greatest accomplishment in his life was his family. He will be lovingly missed by everyone that was lucky enough to call him husband, father, grandfather, uncle, or friend. If he had a chance to catch your ear, he would talk about his grandchildren and all of their activities and accomplishments. None too small. Driving them to school or watching their sporting events, dance recitals, graduation, moving them into college, breakfast with them at the Riverview and even Facetiming the youngest were the highlight for Papa Q.
Phillip is survived by his wife of 54 years, Bernadette (Callahan), daughter Pamela Quinlan Hall (Billerica), Marcie Mackwell and her husband David of Billerica and his son John Quinlan and his wife Kristina of Greenland, NH. He leaves behind has six grandchildren, Sydney, Sadie, Nathaniel, Lila, Isabella, and Zoey for whom the sun rose and set on. In addition, he leaves behind many, sister-in-laws, brother-in-laws, nieces and nephews and countless friends.