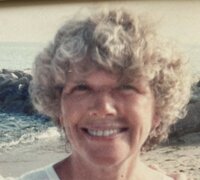 Mary T. Galgay
Mary Teresa Galgay died July 17, 2022, after 93 wonderful years. Born Mary Teresa Maytum, she was the youngest of four children. She had two sisters, Agnes Maytum and Catherine Maytum, and a brother, William Maytum. All the Maytum siblings lived into their 90s. Mary grew up in Cambridge, MA, and her life centered around St. Mary's parish. She attended St. Mary's Elementary and High School and was also the junior organist at St. Mary's Church from ages 12 to 17. She raised her seven children on Norfolk Street, the same street she called home as a child. After her children were grown, she spent the second half of her life on Cape Cod in Dennis.
Her fondest memories were her school days at St. Mary's. She was an excellent student, president of her senior class, and maintained friendships with several of her former teacher-nuns of the Sisters of Notre Dame (until she outlived them all).
Her original plan was to enter the convent and become a nun; however, she married David Galgay, also of Cambridge, at age 19, and 13 months later found her true life calling, motherhood. She enjoyed being a mother more than anything in the world. She taught her children to be good citizens and took immense pride in all their successes, often commemorating these accomplishments by penning a narrative poem—a collection yet to be published.
She leaves her seven children: Marybeth Haynes (and husband Robert Haynes), David Galgay Jr. (and wife Sharon Galgay), Christopher Galgay (and partner Phyllis Hunter), Brian Galway, Joseph Galgay (and wife Julie Thompson), John Galgay (and wife Andrea Galgay), and Patrick Galgay (and wife Aline Galgay); as well as nine grandchildren, three great-grandchildren, and dozens of nieces and nephews.
Mary was smart, energetic, charming, selfless, and giving. She enjoyed reading, old movies, and was a genuine Anglophile. Her bright light has been extinguished but it still burns in all who were lucky enough to have known her.
Services will be announced at a later date.