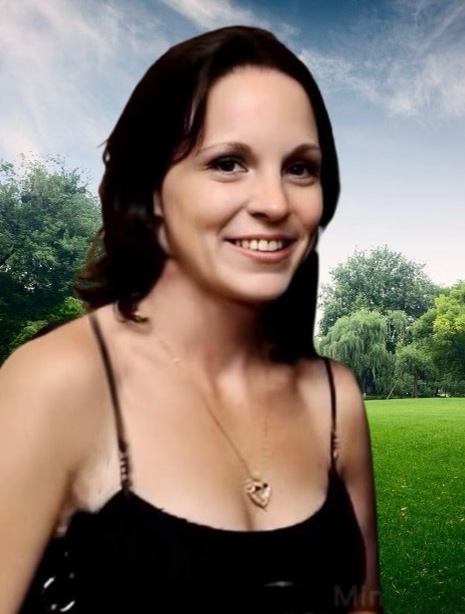 Jillian M. Stairs
Jillian Stairs (40), of Billerica, passed away in the early morning hours of July 23rd with her family by her side.
Jillian was born, a twin, on January 22, 1982 daughter of the late Eugene B. Stairs Sr. and Roberta (Coakley) Stairs currently of Billerica.
She reluctantly leaves behind daughters Mackenzie and Olivia, her fraternal twin sister Shannon (Stairs) Eaves as well as 9 other siblings and respective spouses: Jesse Stairs, Elaine Stairs, Christine Rutina, Eugene Stairs Jr., Shawn Stairs Sr., Kelly Stairs, Caitlin (Stairs) Morales, Meghan (Stairs) Mailloux, Colleen (Stairs) Samayoa. Jillian is also survived by an ever growing population of nieces and nephews, including godson Logan and fur nieces Quinn and Piper, who adored spending time with auntie. She is predeceased by her youngest brother Patrick J. Stairs and her niece Michaela M. Gonzalez.

As a child Jillian spent her summers with her family camping at Wyman's Beach, where she learned to swim, ride a bike, build a fire, catch frogs, and just generally got herself into all sorts of mischief. She was often a real daredevil requiring a fully stocked first aid kit at all times. As is often true, she shared a very special bond with her twin. She also loved being a big sister. As a young adult she liked taking her younger siblings, and their best friends, on wild adventures. Anyone that knew her knew that she could be counted on day or night for a bail out! Being an aunt was a lot of fun for her and she was exceptionally close to her nieces and nephews, taking any opportunity to be around them. #TSM One of her favorite things was to receive notes and pictures drawn by the kids, especially the ones with questionable looking fish and turtles. For employment she enjoyed working in the restaurant industry as the pace of that environment matched her seemingly endless energy. Jillian last worked as the General Manager at the Fairmount Grille, an American Bistro and Bar, in Hyde Park. Jillian was devastated when she had to stop working but was happy to have many great memories, and some good friends that she collected along the way.

Her biggest accomplishment in life was being a mom to her two daughters who are understandably heartbroken by their loss. She beamed with pride when talking about her girls. She was overjoyed to learn that her oldest daughter, Mackenzie, was accepted into every college she applied to and will be heading off to SNHU this coming fall. She was equally excited when her youngest, Olivia, was accepted into Shawsheen Tech. Olivia's talent with hair and make-up always amazed her mom and her interest in dental is something she encouraged her to pursue. One of her last wishes to come true was to be around to see them graduate Middle School and High School this past June. Her incredible fortitude to press beyond what anyone thought possible was always with her children in mind. Her main priority was to get as many days with her girls as possible. Jillian had several loves, the first of which we know without any doubt was her two girls and then, depending on the day and in changing order, was her family, friends and COFFEE!

After nearly 4 years, and many extended hospitalizations, Jillian succumbed to complications following a successful bone marrow transplant which was completed in 2018. Jillian maintained a positive attitude and strong sense of hope throughout her lengthy illness. Her strength and fight was inspiring. To say she was selfless is an understatement. Despite her own declining health she never complained, she always asked about others, and she would constantly offer her help if there was anything she could do.

The family is grateful to the long standing support of close friends as well as her care team at Mass General. Her transplant team, nurses (office and home) and home PT/OT providers held a very special place in Jillian's heart. She especially felt safe, cared for and "at home" when she was with the nurses on Lunder 10. The family would be remiss not to express their appreciation for the incredible interventions taken by the Lahey Hospital ICU team in 2019 that allowed Jillian 3 more years with her kids and family.

Her final days were spent continuously surrounded by family and good friends. Despite being the tiniest of all her siblings she packed the biggest punch. She was deceptively strong and fiercely protective. She never hesitated to stand up for others, especially her younger family members, and was known to get "scrappy" when necessary. Prior to her illness she was on the go, 100 mph at all times, however that did not help her to be on time for anything and if there was traffic it would find her. Unfortunately for the first time, now, she departed far too early and there was not enough traffic to delay her.

In lieu of flowers donations to benefit Jillian's daughters can be made at gofundme.com

At Jillian's request, please join the family for a Celebration of Life which will be held on January 22nd, 2023, 11am-3pm at the Friendship Lodge - 32 Church St, Wilmington MA