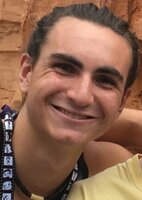 Kyle A. Roust
Kyle A. Roust, age 21, passed away unexpectedly on Friday, July 29 in Boston. He was the loving son of Charles and Karen Roust.
Besides his parents, he is survived by his grandmother Lucille Dupont; his aunts, Cheryl Roust, Diane Roust, and Barbara McFarlane; his uncles, Glenn Roust and Allan Roust and his wife Michelle, his beloved dog Zorro, and cousins, many friends, and many families from Medford who always welcomed Kyle as one of their own.
He was preceded in death by his grandfather, Ralph Dupont; his grandparents, Arthur and Pearl Roust, and his uncle Mark Roust.
Visitation will be held at Burns Funeral Home, 354 Boston Rd. (Rt. 3A) Billerica, MA on Wednesday, August 3 from 4:00pm – 7:00pm. A prayer service will be held at 7:00pm.
In lieu of flowers, donations can be made in Kyle's name to Last Hope K9 at www.lasthopek9.org. Online Guestbook is available below. www.burnsfuneralhomes.com