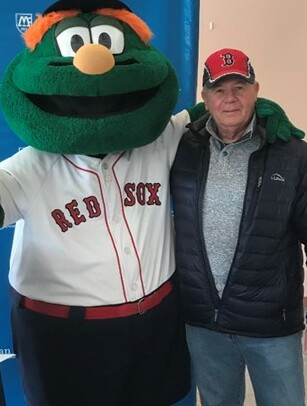 Leonard V. "Len" Bobinchock
Leonard V. Bobinchock
February 14, 1950-December 5, 2022
Leonard "Len" Valentine Bobinchock, of Billerica, Massachusetts, formerly of Lamoine, Maine, devoted husband, father, and steward of public lands, passed away unexpectedly on December 5, 2022, due to complications from prostate cancer treatment. He was 72.
Born on Valentine's Day, Len was destined to have a big heart and a gentle and generous personality—qualities that earned him admiration from colleagues, friends, and family. His warm manner won him friends wherever he ventured and even in his final days, he was quick with a smile and a kind word for his health care providers at Newton-Wellesley Hospital.
The middle of three brothers, Len grew up in northeastern Pennsylvania, where he became an avid outdoorsman, learning to appreciate and respect the beauty and power of nature. This love of the environment led him to pursue a degree in forestry from Penn State University. Following graduation, he began a 43-year career with the U.S. National Park Service including time at Delaware Water Gap and Fire Island National Seashore.
Starting out as a lifeguard and a member of the trails team, Len was soon accepted into the FBI Academy, where he trained as a law enforcement officer. After graduating, he became a National Park Service Ranger and firefighter who was often called into action to battle forest fires in California. As his career grew, Len's expertise in land management led him to take on various Park Service leadership roles, culminating in a 25-year tenure as the Deputy Superintendent of Acadia National Park—a position he held until his retirement in 2014. While at Acadia, Len championed the development of Acadia's fare-free shuttle—The Island Explorer. Today, Len's vision of reducing the human impact on Acadia continues with the State of Maine recently approving a $32-million expansion of the transit system Len developed.
While Len was highly successful in his career, what brought him the most joy were the two ladies in his life: his wife Rose, to whom he was married for 43 years, and his daughter Adriana. He was a dedicated husband and father who valued time with his family above all else. He supported Rose through many business endeavors and looked forward to helping her decorate for the holidays each year. As Rose battled a chronic disease, Len moved to Boston so she could receive specialized care. Devoted until the end, Len sat by Rose's hospital bed every day for 18 months, comforting her until she passed away in June 2018. Following Rose's death, Len decided to stay in Boston to be closer to Adriana and her husband Scott, with whom he shared a special bond.
Together Len, Adriana, and Scott, along with Len's beloved dog Bear, created a warm and welcoming home where everyone was received and treated like family. In retirement, he enjoyed spending summers in Maine, kayaking, flexing his green thumb around the house, hiking with Bear, and of course, watching sporting events—especially his much-loved Penn State Nittany Lions football team. Never losing his love for decorating, each holiday season, he and Adriana would spend several weekends preparing the house for the holidays. He particularly loved setting up his vintage 1950s Lionel train set and watching it circle the Christmas tree. Len also enjoyed spending time with Scott, planning projects, catching up on the latest news, and volunteering to be the first to taste test Scott's home cooked meals—spaghetti and meatballs were his favorite. Dinner time was often an opportunity for Adriana, Scott, and Len to catch up on the events of the day. He always enjoyed hearing about Adriana and Scott's work at McLean Hospital and was honored that they often sought his sage wisdom and guidance.
Len was a man who led a life of purpose, whose gentle manner, thoughtful encouragement and love, will continue to influence and guide all those who have been lucky enough to know him.
Len is survived by his daughter Adriana and her husband, who Len considered a son, of Billerica, Massachusetts, brothers Joseph and his wife Lisa of Archbald, Pennsylvania, Edward and his wife Marilyn of Cranberry Township, Pennsylvania, and close friends Gerry and Denise Dawson and their daughter of Waltham, Massachusetts.
Visiting hours are scheduled for Monday, December 12, from 4:00pm to 7:00pm at Burns Funeral Home, 354 Boston Road, (Rt. 3A), Billerica. A funeral mass will be held on Tuesday, December 13, at 10:00 am at Matthew the Evangelist Parish in St. Theresa Church, 466 Boston Road, Billerica. Believing that everyone should have access to high quality health care, Len supported several healthcare organizations. In his honor, in lieu of flowers, the family has requested donations be made in Len's memory to the Patient Assistance Fund at the MGH Cancer Center at Newton-Wellesley Hospital in recognition of the outstanding compassionate care he received while in their care. To give a gift online, visit

giving.nwh.org

.

Under designation, please select other and write in MGH Cancer Center, Patient Assistance Fund.