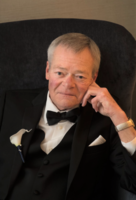 Patrick Corcoran
Patrick Corcoran
Sadly, on Tuesday, December 6, 2022, Patrick Corcoran, our loving and devoted father, passed away unexpectedly. Our father was born in Cambridge, MA on September 23, 1951. He was predeceased by the love of his life of 40 years, our mother, Deborah. He is survived by his daughters, Ashley and Caitlin; his brothers Kevin, Brian, and William; and his nephew Jake.
Our father wrote the following words for his beloved wife at the time of her tragic passing. We have modified, at our best, to express his same sentiment to include is reunion with his soulmate. "Over these past difficult days, with every prayer, every rose, every embrace, and every tear, you have returned their love to us. And for this, we thank you. So now, although our hearts are breaking, the time has come to bid them a final farewell." You will be forever missed, loved, and celebrated.
Visiting hours will be held Friday, December 9 from 4:00pm - 7:00pm at John C. Burns Funeral Home, 305 Broadway, Cambridge, MA. Relatives and friends invited.