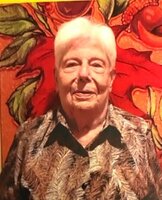 Doris M. Dress
Doris M. (Schoop Jett) Dress, age 92, beloved wife, mother, grandmother, great-grandmother and aunt died peacefully Tuesday, January 3rd at Lahey Hospital with family by her side.
A daughter of the late John Hans and Margaret (Fleischmann) Schoop, she was born in Olten, Switzerland, August 12, 1930. They moved to Philadelphia, when she was 4 and became a naturalized citizen of the United States in 1939. She went on to graduate Little Flower High School in 1948. After living in multiple parts of the country, her last relocation was to Billerica in 2016 where she resided at Billerica Crossings to be nearer to family.
Doris enjoyed family, quilting, any handwork, computer games, fishing and corresponding with the many family and extended family members as well as the friends she collected over her 92 years. She was involved with the Swiss Benevolent Society, various prayer and support groups in all of the churches she was a parishioner of and the Billerica Senior Center.
She is survived by her children Drew Jett and his wife Susan of Monson; Nancy Brewster and her husband Chuck of Billerica; James Jett and his wife Carol of Vernon, CT; Christopher Jett and his wife Katrina of Chelsea, AL; her grandchildren Stacy and Jeffrey Moore, Drew Michael and Amanda Jett, Christopher and Kerrie Jett, Phillip and Kathleen Jett, Neal and Gretchen Brewster, Carissa Jett and Matthew Minese, Brittany Jett, Tina (Brewster) and Christopher Lane, Kellin Jett, Kameron Jett; and her great-grandchildren Quinn, Lillian, Grant, Sloan, Henry and Bode and many nieces and nephews.
A Funeral Mass will be held Saturday, January 14, 2023 at St. Matthew the Evangelist Parish at St. Theresa Church, 466 Boston Road, Billerica at 10 a.m. Relatives and friends respectfully invited. A private burial will be held at a later date in Philadelphia, PA. In lieu of flowers, contributions may be made to a Catholic charity or other charity of your choice.