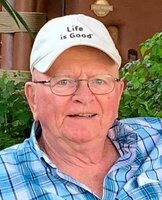 Alan E. "Al" McGlory
October 6, 1941 - January 4, 2023
Alan "Al" Everett McGlory, 81, of Billerica, Massachusetts passed away on Wednesday, January 4, 2023.
Beloved son, he and his late brother James McGlory were raised by the late Carl Barone and their mother Shirley McGlory (Smith) He is survived by his loving wife Christine McGlory of 54 years; his son Todd McGlory of Wakefield, his daughter Lisa Sencabaugh and son in law Darryl Sencabaugh of Sunapee New Hampshire. He was known as "Grampi" to his three grandchildren William Sencabaugh, Alexander Sencabaugh and Jonathan Sencabaugh.
"Al" was born at the New England Sanitarium and hospital of Stoneham Massachusetts on October 6th 1941. He was raised in Melrose and moved to Wakefield during his primary years. He was a graduate of Wakefield High School class of 1960. Continuing his interests from high school of Mechanic/fabrication and Auto shop led into his long career as a Machinist and lifelong "mechanic of small engines" and fixer of most things. You name it and he would find a way to fix it. "Super Al"
Chris and Al have lived in Billerica for 51 years. It was there they found a few close neighbors, especially David Nunes and family that were vital in these past few years in Billerica.
His first love was his wife. His second was Sebago Lake for which they have spent almost 50 years as well. This is where you could hear Al making his rounds talking about days of old at Indian Point. He served on the E-board and worked in his own way to ensure Indian Point remained a beautiful vacation destination for its owners.
Shortly after retiring they followed close family /friends Kevin and Lynn Berry down to Cape Coral, Florida for winters where they found their next favorite place. Forever the handyman Al quickly became friends with the local handyman Mike. While Chris enjoyed life on the canal with the warm sunshine and her dog Mitzy. Al could and would socialize with everyone. He truly enjoyed the warm weather. You could hear it in his voice when they arrived. He even let loose on a few fun cruise adventures with their new friends Pat and Lloyd Hines.
Al did not want any services after his passing. He just wanted to be cremated and have a private family "celebration of life" in the spring up at Sebago.
For those wishing to share below any memories please do so. Donations are also being accepted to the Alzheimer's Association in his name
Rest in peace Al (husband, father, grampi) you will be missed.