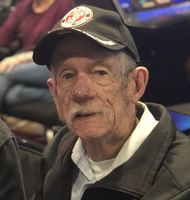 Peter P. Vincent
Peter Paul Vincent, 83, a 51-year resident of Billerica, Massachusetts,
passed away peacefully at home with family by his side on January 12,
2023, following a lengthy battle with cancer.
Peter was born on February 15, 1939 in Boston, MA, the son of Leon M. Sr.
and Marjorie (McCracken) Vincent. Following his graduation from Brighton
High School in 1957, he enlisted in the U.S. Marine Corp.
During his career, Peter worked at Itek, Varian, and Bruce Technologies.
Of his many accomplishments, he was most proud of his contributions to the
Apollo and Viking Spacecraft Projects. He continued through his life to
educate himself on a daily basis whether it be current events, sports,
history or science. He always had an open mind and wanted to learn more.
On the lighter side, he enjoyed his annual trips to Las Vegas with his
sons, playing Keno, betting the horses, and ordering baked scallops for
dinner.
In 1968, Peter met Charlotte Daley. They married in 1970 and began their
family, having three children; Jonathan Vincent (Laura) of Tyngsborough,
MA, Danielle Flynn (Craig) of Billerica, MA and Christopher Vincent of Las
Vegas, NV. A proud, loving, and devoted father, Peter also took great joy
in his grandchildren; Avery, Faith, Rory and Kiley Flynn, Zane and Zoe
Vincent. He loved being with them; delighting in all they did, sharing
special moments big and small, participating in every accomplishment, and
offering his wisdom along the way. He will surely be remembered by his
family as quick to smile, laugh, listen, and love.
Peter was also very close to his brother and sister-in-law, Francis and
Ann Vincent of Hingham, MA; as well as his late sister, Marjorie Morris
and late brother, Leon M. Vincent of Dover-Foxcroft, ME. Peter is also
survived by many loving nieces, nephews, and dear friends.
Visitation will be held in the Burns Funeral Home, 354 Boston Rd., (Rt. 3A), Tuesday, January 17, from 10:00 to 11:00 AM, followed by a prayer service at 11:00 AM. Interment follows at the Fox Hill Cemetery in Billerica, MA. Relatives and
friends are welcome. In lieu of flowers, donations may be made to St. Jude Children's Research Hospital
in honor of his life.