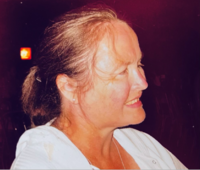 Deborah A. Joyce
Deborah A. Joyce, 68 of Billerica passed away Thursday,February 9th at Lahey Clinic in Burlington, surrounded by her husband, Jerome (Jerry) Joyce of 36 years and daughter Brittany Joyce.
She was the beloved daughter of John (Jack) Lyons and Mary Clare (Sheehan) Lyons both of Billerica. Debbye graduated from Billerica High school class of 1972 and attended Bates College. She worked as a Systems Analyst for New England Telephone (Nynex) before retiring in 1997, after suffering a stroke. Debbye loved to travel, ski, listen to music, camp, and go to the beach. Most of all though, she loved her family and her pets. She was a spirited fighter who inspired those around her with her warmth and laughter.
A memorial service will be held at Burns Funeral Home, 354 Boston Rd., (Rt. 3A) on Sunday, February 19, 2023 from 1:00-4:00pm. In lieu of flowers, the family would appreciate a charitable donation made to Tedy's Team in memory of Deborah Joyce. Donations can be made online at Tedy's Team or a check can be mailed to the Tedy's Team office at 72a Taunton Street, Unit 101, Plainville, Ma 02763.