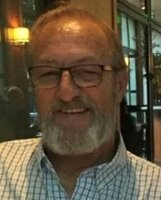 Robert A. "Bob" Dauphinee
Robert A. Dauphinee (Bob), age 74, died April 17, 2023, at the Care Dimensions Hospice House in Lincoln surrounded by his wife and daughters after a long battle with Alzheimer's Disease. Bob was born in Winchester, MA and the son of the late Donald and Ruth Dauphinee of Reading, where he was raised. He graduated from Reading Memorial High School class of 1967. He later served in the US Navy and was based in San Diego, CA (Coronado) where he met his beloved wife, Barbara A. (Cruz) Dauphinee, with whom he was married to for 51 years.
Bob was recruited for the US Navy in February 1969, received training at the Great Lakes Naval Station, and the Naval Submarine Base in Pearl Harbor, Hawaii. In August 1969 he was transferred to the Pacific Fleet at Guam on the USS Proteus for duty. In May 1971 Bob transferred to the USS Providence CLG-6 and was stationed in San Diego, where he was appointed Gunners Mate Third Class in September. It was during this time that Bob met Barbara. They were married on April 10, 1972. On April 11, 1972, Bob was deposed for active duty to Vietnam.
The USS Providence CLG-6 spent 8 months deployed, and most notably was part of Operation Lion's Den which took place in Haiphong Harbor, August 1972. During Lion's Den the USS Providence along with USS Newport News made an attack on 4 North Vietnamese torpedo boats, sinking 2 while the other 2 were struck by air. According to the ship's command logs, the Providence participated in Operation Freedom Train and Linebacker during this deployment and provided close to shore gun support for several missions of US forces. The USS Providence earned a 2nd combat citation and a 2nd Navy Unit Commendation that year. In December 1972, the Providence returned to San Diego with pride and honor. Bob was released from duty and his personnel records showed remarks about his leadership and integrity as a solider.
After serving in the Navy, Bob returned home with his wife Barbara and daughter Annette (6 months old) to Massachusetts and eventually settled in Reading, where they raised their family and lived for 30 years. Upon returning to Reading, Bob began his career as an auto mechanic working with his father Don and brother Ken at D's Service Center in Woburn. Following several years in the family business, Bob took a position as a mechanic at the Reading Department of Public Works, where he eventually retired. In 1997 Bob and Barbara bought a home in Billerica and have remained Billerica residents while their family grew.
In his off time, Bob was heavily involved with the VFW Post 685 in Reading as a lifelong member and past Commander. He also participated in a local bowling league, dart team, and the Reading Men's Softball League. Bob enjoyed a game of cribbage whenever there was an opportunity.
During his retirement, Bob enjoyed driving a shuttle as a Security Officer at Pfizer in Andover and also driving delivery for Advanced Auto Parts in Billerica. Most of all, Bob enjoyed spending time with his grandchildren Jacob Marchant, Jacquelyn Marchant, Ismael Vicente, Elayna Vicente, Damian Halter, Seamus Halter, Maya Sakovich, his great-grandson Jaxson Vicente and his many fur grandbabies.
Bob is survived by his wfe Barbara of Billerica, MA, along with his four daughters, Annette Marchant and her husband David of Tewksbury; Karen Halter and her husband Tom of Hampton, NH; Tina Vicente and her fiancé Michael Sakovich of Billerica; and Meredith Dauphinee of Wilmington. Not only is he survived by his wife and daughters but is also the brother of Nancy Wallenuis and husband Jon of San Pedro, CA; Donna Johnson and husband David of Wilmington; and Kenneth Dauphinee and wife Mary of Philadelphia, PA. Bob will be remembered to his many nieces and nephews and their families as "Uncle Bobby."
Memorial visitation will be held on Saturday, May 6, 2023, in the Burns Funeral Home, 354 Boston Rd., (Rt. 3A), Billerica from 9:00 to 10:00 AM, followed by a service at 10:00 AM and interment with military funeral honors at Laurel Hill Cemetery in Reading. Relatives and friends are warmly invited to attend.
In lieu of flowers, memorial contributions may be made to the Disabled American Veterans or the Care Dimensions Hospice House in Lincoln.