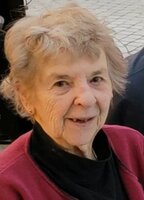 Phyllis R. Klemp
Phyllis R. Klemp of Buffalo, NY, passed away on Saturday, May 13, 2023. She is survived by daughter, Carolann Barrett (Donna), of Cambridge, MA; son, Craig (Rick) Barrett (Christine), of Houston, TX; daughter-in-law, Joyce Barrett, of Wilton, CT; grandson, Luke Barrett, of Lynnwood, WA; and stepchildren, Paul Klemp, Oshkosh, WI; David M. Klemp, Buffalo, NY; and Tricia Klemp Davis, Buffalo, NY. She was preceded in death by her husband, C. Jerald Klemp; son, Nelson David Barrett; and mother, Constance K. (Kosters), and father, Vincent M. Raffauf.
Phyllis was born in Lackawanna, NY, on March 14, 1929. She attended Bennett High School in Buffalo and graduated from Buffalo State College with a B.S. in elementary education and M.S. in education. She taught prekindergarten in Hamburg, NY, and kindergarten in Hartford, CT, and substitute taught in Orchard Park and West Seneca, NY.
She married Nelson R. Barrett in 1951, and they had three children. She married C. Jerald Klemp in 1974, and they lived in Clarence and Buffalo, NY, as well as Tampa, FL, and Rocky Hill and New Britain, CT. She and Jerry enjoyed traveling in the northeastern U.S. and southern Ontario, Canada. Phyllis was a faithful Catholic her entire life. She particularly gravitated to the daily mass at Buffalo General Hospital, often celebrated by Fr. Richard H. Augustyn. She sponsored children through World Vision.
Phyllis's interests included knitting for charitable organizations, playing cards, collecting teddy bears, creating greeting cards, reading books, and baking for others. Ice cream was a beloved treat. Phyllis was a lifelong fan of the Buffalo Bills and the Buffalo Sabres, cheering them on at every game.
A memorial service to honor her life and interment of ashes at Acacia Park Cemetery will be held in the Buffalo area at a later date. Donations in Phyllis's memory may be made to the Saint Jude Center, 760 Ellicott St., Buffalo, NY 14203 (www.Saint Jude Center)