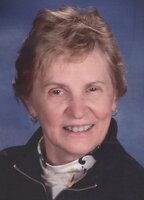 Bessimae "Bess" Clarke
Bessimae Clarke, age 80, of Billerica passed away on Saturday, May 13 at Lahey Hospital.
Born on December 2, 1942, she was the daughter of the late Bessimae (Bennett) White and William T. White Jr. She was a graduate of Billerica Memorial High School with the class of 1960.
Bess was married to the late Alfred Clarke, Jr. in 1966. She travelled extensively with her loving husband while he served in the armed forces. They lived in many places over the course of his service including Norfolk, VA, Somerville, SC, and Washington DC, and spent much time overseas in Iceland and Germany. After settling in Billerica, she became a member of First Congregational Church and later an avid knitter with the knitting club at the Council on Aging. Bess worked in the Billerica Memorial High School cafeteria from 1986 to 2009 and at the polls in town hall for local elections.
Bess is survived by her beloved sons; Scott Clarke and his partner Jeanine Thresher of Billerica and Shane Clarke of Woburn; two brothers, William White of Chelmsford and Samuel White of Dracut, and her nephew Jeffrey White and his wife Caroline of Tyngsboro.
Visitation will be held at Burns Funeral Home, 354 Boston Rd. Billerica on Friday, May 19, 2023 from 10:00am – 12:00pm. Funeral Service at 12pm at the funeral home.
In lieu of flowers, donations can be made in Bess' name to the American Cancer Society at www.cancer.org or to the Alzheimer's Association at www.alz.org