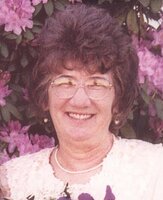 Carol E. MacKenzie
Carol Ann Eastman MacKenzie of Chelmsford left this earth on Friday, May 19, at age 81. The daughter of George Eastman and Ruth Runge Eastman, Carol was a graduate of Billerica Memorial High School, and attended Lowell Commercial College. She began her career with the Boy Scouts of America in Lowell and always persued her many interests with enthusiasm. She was a life-long member of 4-H, having raised and showed cows at local and state levels, getting her first horse at age 17. A member of Littleton Horse Owners, she participated in many local and pleasure events such as the Cross State Trail Ride. She was also in charge of the Horse program at 4-H Camp Middlesex in Ashby, MA, for many years. She pursued an active life-style, skiiing, playing soccer, and climbing all of the White Mountain 4000-footers. She had many jobs, of which her favorite was clerking at the Windsor Shoppe in Lowell. In addition, she knitted and gifted many afghans and hand-made articles. She was a member of Chelmsford Bible Church and St. Anne's Episcopal Church, North Billerica.
Carol leaves behind her husband of 23 years – Jonathan MacKenzie, sons Mark Scipione and his wife, Lucy, Matthew Scipione (deceased), and a grandson Shane Scipione, and his mother Deborah Bruno, as well as many cousins, nieces, and nephews in Vermont and Connecticut.
Calling hours with be Friday, May 26, from 4-7 p.m. at Burns Funeral Home, 354 Boston Rd., Billerica, MA 01821. Services on Saturday, May 27, 10 a.m. at St. Anne's Episcopal Church, 14 Treble Cove Rd., Billerica, MA 01821, with burial following at Fox Hill Cemetery, Billerica. conducted by the Rev. Jennifer Beale, Priest in Charge.