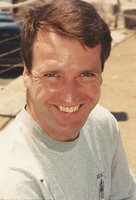 Dennis J. Dwyer
Dwyer of Billerica, Dennis J. Dwyer, died,Tuesday, December 11, 2018, at the Lahey Hospital in Burlington, loving husband and proud father of two children, passed peacefully in his sleep at the age of 59.
Dennis was born June 13, 1959 in Cambridge, MA to Joseph and Barbara Dwyer. He received his Associates degree from Le Cordon Bleu College of Culinary Arts in May of 2005. On April 15, 1995, he married Christine N. Lebert. They raised two sons, Joshua and Caleb, and helped care for Hayley Lebert and Kayleigh Sarracco.
Dennis had a passion for Boston sports teams. He was also an avid music lover and collector of a myriad of keepsakes. He cherished time with his family and close friends. He was also known for his quick wit, reassuring smile, and kind and compassionate spirit.
He is survived by his wife and two children, his parents, his sister, Patricia Riley of Billerica, his brother Michael and his wife Carelle, of Keene, NH, his brother Daniel of Billerica, his sister Catherine Lavoie and her husband, Donald, of Florida, his brother Brian and his wife, Christine, of Medford, his best friend Jim DiCiaccio of Raleigh, NC, and several nieces, nephews, and cousins. Visiting hours will be held in the Burns Funeral Home, 354 Boston Rd., (Rt. 3A), Billerica, Monday, December 17, from 4:00 - 7:00 PM. Relatives and friends invited. In lieu of flowers, donations may be made in Dennis' name to The American Heart Association or Perkins School for the Blind, Watertown, MA. www.burnsfuneralhomes.com
--