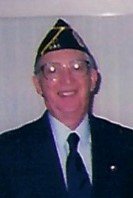 Walter A Lichota
Walter A. Lichota, 96 of Billerica, passed peacefully in the early morning hours of Sat. Dec. 15, 2018 at the Lifecare Center of Merrimack Valley.
He was born on June 15, 1922, in Brooklyn, NY, the son of Anthony and Carolina (Ciszek) Lichota He graduated from Manual Training High School in NYC, and during WWII, served in the US Army. When he returned from the war, he married the love of his life, Erminia Chorzempa, "Minnie", his beloved wife of 71 years. She predeceased him on July 14, 2018. He was employed as a machinist at Hamilton Standard in Ct., before moving to California where he was employed by North American Aviation Corporation on the Apollo Program. NAA later became part of Rockwelll International which was sold to Boeing after his retirement. While at Rockwell Internatinal, Mr. Lichota became a representative of UAW Local 887. He later worked at eh Union's financial office as staff representative, assistant to the financial secretary.
Mr. Lichota was a former Senior Vice Commander of the Billerica DAV. He was a devoted member of the VFW Post # 8819 and had served as the chaplain for the American Legion post. His interests included politics, current events, reading, travelling and working in his yard in both California and Massachusetts, as well as studying the stock market. He was also a Boston Red Sox fan.
He leaves a son, Randall Lichota of Billerica; two half-brothers: Anthony of NJ and Johnny of Florida; a half-sister, Diane Napoli of NY; and a special family friend, Bob Kinsman of Billerica.
Family and friends are invited to call at the Burns Funeral Home 354 Boston Rd., Billerica, MA., Wednesday Dec. 19 from 2-4 PM. Remembrance gifts may be given to the DAV in your local area. Spring graveside services will be held Thursday May 16 at 11 AM at Lakeview Cemetery, Rte. 2, Wilton, Maine. His family invites you to share a kind remembrance on his memorial wall at www.wilesrc.com. Arrangements are in the care of the Wiles Remembrance Center, 137 Farmington Falls Rd., Farmington, Maine.